Be savvy. These are "gotchas" for many small businesses.
Hire out what you are not the best at and if you can afford to do so- hire someone to be the point person manager who can handle most of the day to day. It will save your sanity.
Taxes are a big deal. Get a good CPA.
BUT please do your own reading too- CPA's miss things and do not always know interior design. Trust me on this after having two really do me wrong. I do my own payroll taxes, sales tax and other taxes–and 1099's but he does the year end taxes. This year is a bit crazy so it is essential you do not try and do this yourself. Ask him what deductions you can take if you had a good year–should you buy a new vehicle? Hire someone?
Fast Five
1. Learn to read a balance sheet and a profit and loss statement.
One of the biggest issues I see with designers, not understanding how much money you are making and where it lives on the p and l and balance sheet. Learn to read on now–you cannot follow what your CPA does if you do not. I cannot go into all the details here as it is too difficult to cipher through all the different programs but you can do this.
2.Understand 1099 rules.
If you pay someone more than $600.00 in a year you need to send them a 1099. This is important as the burden is on you to report this- basically you are the government's beotch and have to police people so they claim income.
Get a W9 from everyone you pay that is not a corporation or selling a product- people like work rooms, installers, subs and such. Do NOT pay them until they give this to you. It is very hard to get it later after you have paid them and you will waste valuable time doing so.
3.Understand how inventory works. Even if you don't have a store.
Even if you are working from home and you have a few items you have purchased for clients but not yet sold- these technically cannot be expensed and need to be inventory- you take the expense when you sell it. Unless these items might be considered a prop for photo shoots- just understand how inventory works in general. Consult your CPA.
4.Never let a sub enter a client's home who is not insured.
Liability and workers comp is key. If you are no t responsible for them- it is tough to command this but try. The ramifications could be disastrous. We keep copies of insurance on file even on people we simply recommend. It is a responsible business thing to do.
5.Know when the PPP forgiveness must be requested for this year!
This is key so call your bank. It has started already but you can opt for the longer period. RULES HAVE CHANGED. So be sure to look into it in great detail so you can get it forgiven if you got the loan.
PIN ME!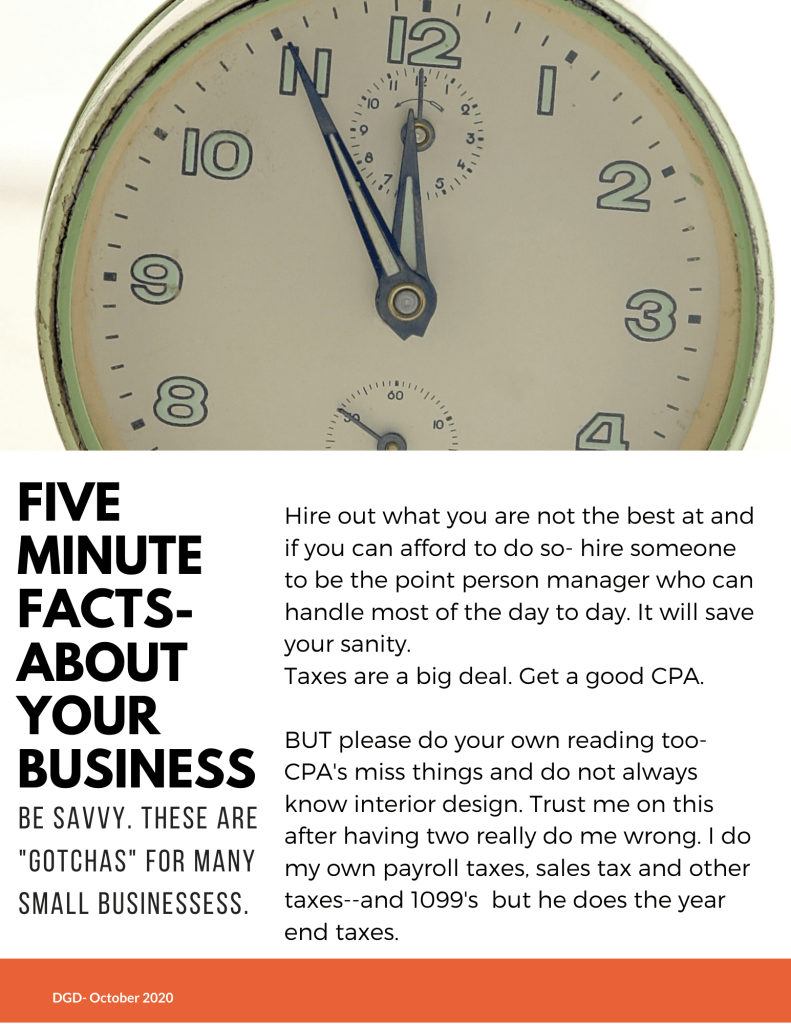 Need more info on hiring and training? This is a great guide including ads, training for employees and so much more.