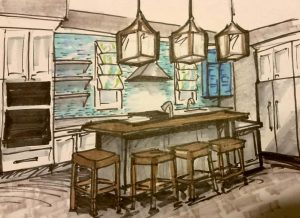 Unique new townhouse duplex construction in a coastal community.
The owners lived in the house part of the year and rented it out the remainder of the time. The kitchen needed to be as bullet proof as possible, given the tiny budget allocated.  The client had a fixed price contract for the property. Therefore, the budget was set in stone. Although, he still desired a kitchen that had the ambiance of a much higher end project. The name of the game was careful selection of "wow materials" to disguise the lesser expensive options of contractor built cabinetry and lower end appliances.  We carefully designed the layout to include a clean up zone in the island. In addition,  provided a working space, as well as a secondary sink near the range for a prep area, and the cooking zone that has ample work space near it too. Access to the refrigeration is at one end. Therefore, designed to not interfere with the cook and anyone prepping for a meal. The house is large enough to house many guests as well as the owners own young family!
What the client says:
"Very keen eye for current design trends. Has a wealth of knowledge and contacts. Works within budgets very well. I highly recommend In Detail Interiors."
If you like this post, you may also be interested in this post about coloring your kitchen!