Reverse brainstorming-Are you kidding me Cheryl? And while I am writing for my interior designer group of folks- this can work for any business!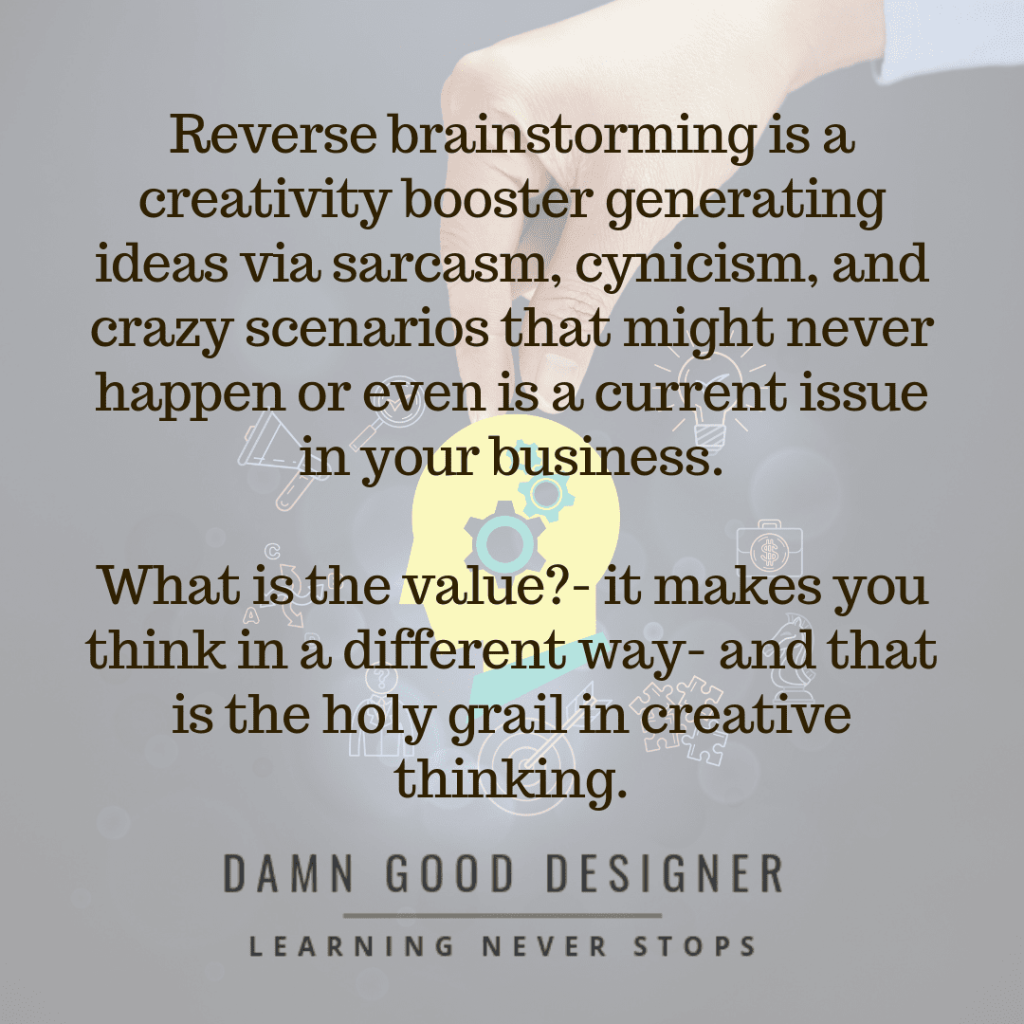 How?  Just the opposite as you would typically do when brainstorming ideas.
"How can I improve client experience" becomes —how can I trash the client experience?
All sorts of ways- –don't show up on time for appointments, keep them waiting for plans, play music very loudly in your office, ignore their phone calls and texts, don't tell the client when subs are coming to the job site, email them crappy digital photos of all of your ideas…..
Look at each reverse brainstorming scenario and think how would you solve this problem if it existed? The idea is to be a bit outrageous so that you are really thinking out of the box- and even if you do not have the reverse problem- ideas will be generated anyway!
These ideas below are a little kooky but I did this exercise as I was typing the post- kid you not. And trust me some of these will find their way into our client experience if they are not already! So crazy? Yes it kind of is- but getting out of the typical patterns is a great way to stimulate creativity.
1.****Don't show up on time for appointments- Inspiring ideas in the reverse-
Ideas- Consider sending a handwritten note after booking with a clever "something" in it- we are going to try a star bucks gift card for 10 bucks- and some other small gift cards that could be relevant to the note–for example if the client on the phone was harried and kids tugging at her while trying to chat about her project- send her a 10.00 card for Walgreens and say—
"We could not fit the Calgon into the envelope but please go get some bottled relaxation for your next mom moment- on us! See you next Tuesday at 10am! "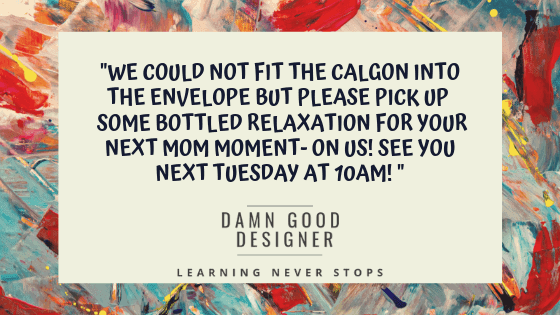 Or, if the client was talking about "treating themselves to a new bedroom or dining" or whatever they are calling about- send the Starbucks and say
"We believe in treating ourselves and our clients too –  a double latte on us. See you Wednesday at 4pm" 
Can you imagine the value of this before your first meeting???
Come on people! It is 10 bucks!!!
2.****Ignore their phone calls or texts- Inspiring ideas in the reverse……
Ideas- How do you involve the client and not let it deter you from actually getting work done? How about sharing a portal for them via trello or slack and asking them to use it for optimal responses from you? Many do this already I know.
BUT —- when you give them their "portal" ID- what if you gave it to them with a small wallet/coin purse  beautifully wrapped — ( many artisan companies you can buy wholesale..we have one at our shop if interested and it also is a twofer as it supports a coop of Haitian women entreprenuers) And if you like to be funny ( like me) say  something like-
"You have been approved for the top secret access codes to the project…guard this password with your life- (and also put any of the sofa change inside so we can spend a little more on the lighting budget:) " (you get  the idea here!)  You have to do what is right for your brand personality- of course- but the idea here is to stimulate creative thinking and problem solving- something near and dear to my heart and damn it- I will have a school for this eventually!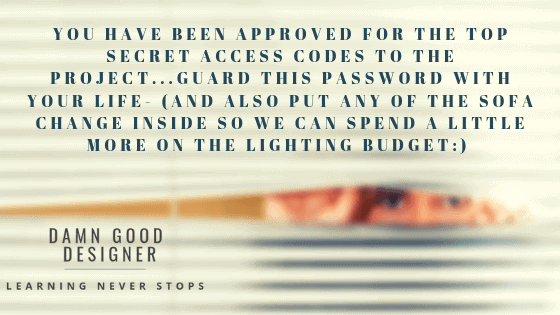 Value? You are setting a tone and developing a relationship.
3. ****Send them crappy photos digitally by email for your ideas-  Inspiring ideas in the reverse……..
Ideas- Ok so turning it around here- solutions- well of course you are going to present in person- DUH- but what about making it an event?
We do this every time we do a big initial presentation. Wine, Charcuterie etc if in late afternoon and many are as we deal with people running their own businesses..or Prosecco or mimosas and excellent baked treats ( you can see that baked goods is a big theme at my shop right???) if mid morning or a light snack at lunch time. Presented beautifully which also shows your creative skills…double DUH…
And/or … maybe have a gorgeous rendering or hand drawing if you do these and is included—to send home with them in a nice little tabletop Wexel frame-
(another great line by the way- we sell them in the shop) so they have a "leave behind" ( this is what we called it in sales back in the dark ages before computers) with them reminding them how awesome you are- uh huh.
Yes Virginia the frames cost money….
But is a chicken and egg thing…got to spend it to make it and if you do what I suggest – you are going to be rolling in it because it is all about the relationship! And yes, creative ideas too!
4. ****Don't tell them when subs are coming- everyone loves a surprise at 8am right? …Inspiring ideas in the reverse
Ideas- Give the client a schedule of course but maybe this is lost, they don't recall it and are still surprised-
Hmmmmm- how about doing a calendar in trello for them- only them- that will have all of the events and such on there- they can check it when they need to and you update it- probably even a gmail calendar you can add if do not do trello and it could be shared with them.
How cool would that be? And you would be able to change etc when appts change–I would even do the entire calendar of schedule on there and am sure many do this already but do you give them a calendar in your project management system of choice? If so then awesome!
Or —What if you spring for pastries or a breakfast wrapped up in a pretty little tea towel ( you can open with lines like this for pennies…) in a basket for the sub to take on one his visits?
You can get it to the sub and yes it is more work but this also does double duty ( Cheryl loves a good 2 for 1) of showing the client you are in a cohesive relationship with your sub. And, it makes both of you look good! This may be a threefer!
And yes it may cost a tiny bit of money if you are not a baker- but for freaks sake maybe little gestures of  "we are in the boat with you Mrs. Client)  will cut down on some on the endless posts about how clients don't get it or won't pay or whatever- maybe it is not the clients…maybe it is us? ( and you can gift the other tea towels to clients for housewarming gifts too….always a way if there is a will!
And if the client is tough- don't you love a good challenge?? I do! One of my challenges two years ago paid off in a 140k expenditure and a 20k design fee and easy peasy job. I won them over and was quite enjoyable! So yes yes it costs money but dang it you gotta spend some!
Remember this please.
You set your reputation in the initial meetings and interactions with a client, a new boss etc. Do it up right.
Other ideas here too but ya'll going to have to hire me to divulge more!  You know you want to!
Check out our designer resources here! 
We have tons of designer resources to offer. Check out our flat fee and minimum expenditure guide below.