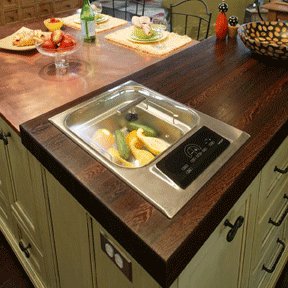 Personally, I love wood countertops. We try and find a way to add wood to almost every kitchen we design. From a designer's perspective, a wood top adds an organic feel to a kitchen that is comforting, easy on the eyes and functional. Well, that is if your spouse lets you use it functionally….as a chopping surface. I have a 3 inch thick wenge wood top from Craft Art and I love it. However, my husband, even after 6 years fusses at me if I try to cut on it. For pete's sake it is a edge grain top! Meant for cutting!
My top has withstood several hurricanes and resulting lack of A/C for months on end and still looks almost new. Maybe better than new. I oil it with tung oil roughly every 3 months. After all these years of specifying wood tops, I have yet to have a client come back and be disappointed.
And, it does not have to be ALL of your countertop space…wood tops can be worked into even small 2ft by 2ft sections. And, you do not have to cut on it or even get end grain and really, the best for cutting would be edge grain anyway…but be prepared to pay a good deal more. Many of my clients like the plank ( table) style as well…especially if you want a decorative edge on it such as roman ogee or french baroque.
Below is a kitchen we designed with a black distressed walnut top on a very long island. I can tell you we sweated this one out until it was installed!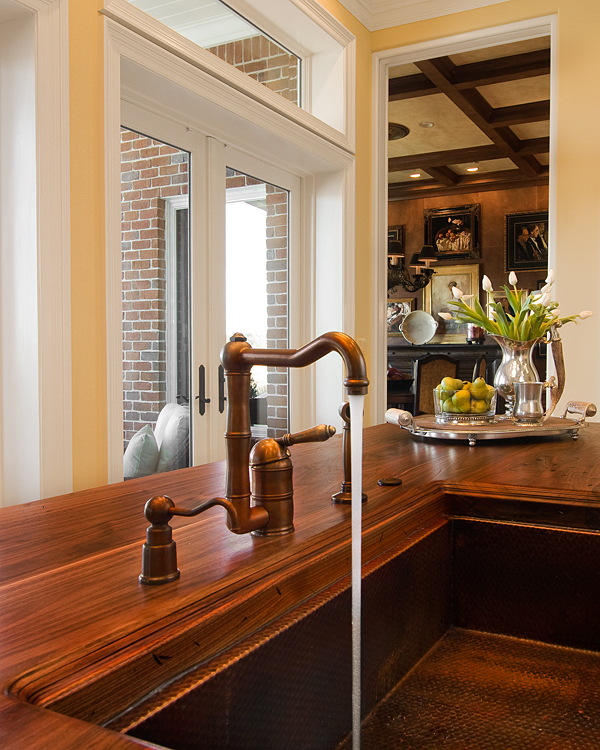 Below is a small bamboo island top that is end grain. It is supported on stainless stand offs.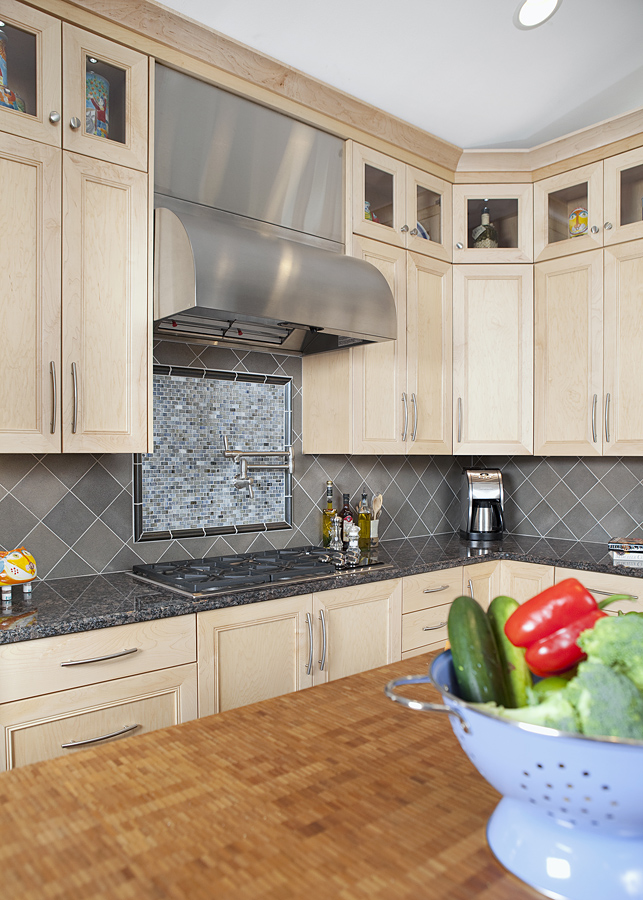 Most designers are savvy to the properties and advantages of wood countertops but many homeowners still fret and worry about using them. I will say that typically they are not a "bargain" choice. Often, they can be as much or more than granite or quartz depending on the type of wood chosen, the thickness and the construction method.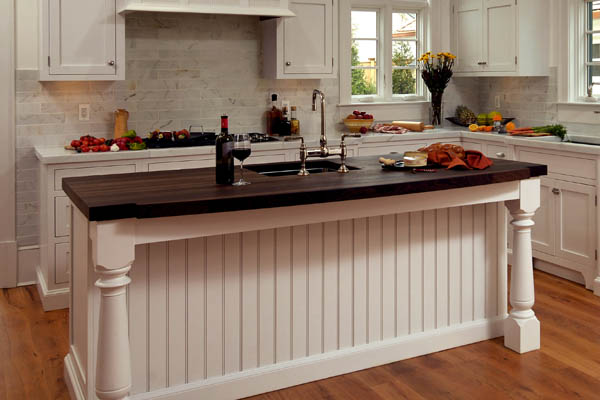 There are other companies of course. I just have used both GL Lumber and Craft Art for years so am most comfortable recommending them.
Here are a few tidbits of info to chew on.
~~Studies show that wood is actually safer to use than plastic. Research indicates that bacteria, such as salmonella will thrive and multiply on plastic (laminate). On both new and used wood cutting surfaces, the bacteria dies off within 3 minutes.(GL lumber uses a Durata finish which is incredible and food safe. Craft Art uses a tung oil treatment also food safe)
~~Don't put hot dishes or pans on your wood top. Don't put them on granite or quartz either. Really, can we not just get trivets? Even though with granite/quartz probably nothing will happen..I have seen thermal shock make minor cracks in stone. If you want to put hot things on your wood, both of these manufacturers will install "set down" rods of stainless steel. Even if you do not need them, they look way cool.
~~Water near wood is fine. Yes, you need to wipe it up. Do not let it sit there for a period of time. Duh, it is wood. However GL Lumber's durata finish is water resistant. They illustrate this at shows by continuously running water over the top. Impressive. Again, trust me I have installed plenty of wood tops and sinks and over the years no one has ever regretted it. But, there is maintenance. It is a matter of being an informed buyer.
~~Forget maple. Well, not really…maple is great but oh boy…there are some really awesome species out there that you might never have even thought of …including reclaimed woods that make incredible statements. And I love a statement.
~~Wood has wow factor. Work it in somewhere. You will not be sorry.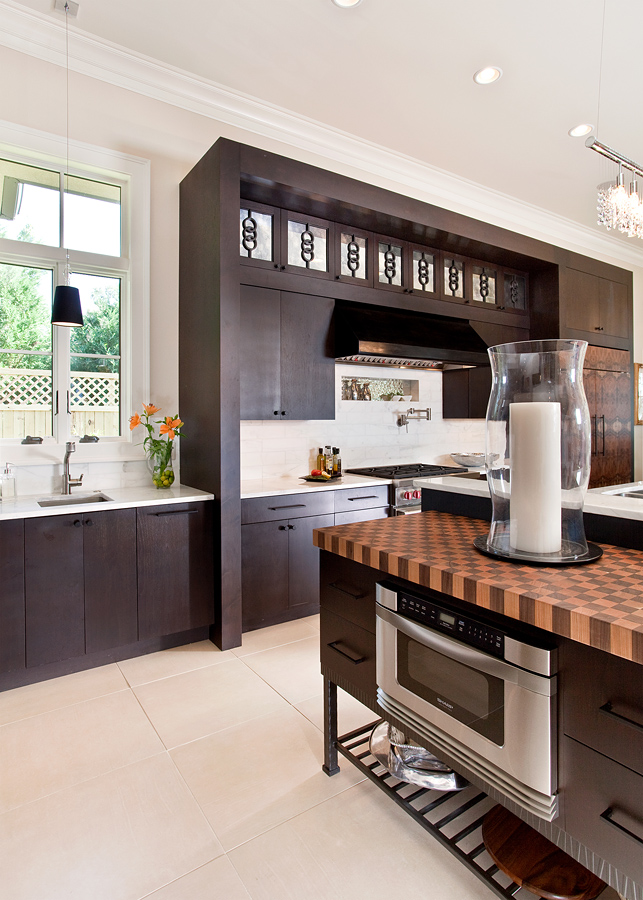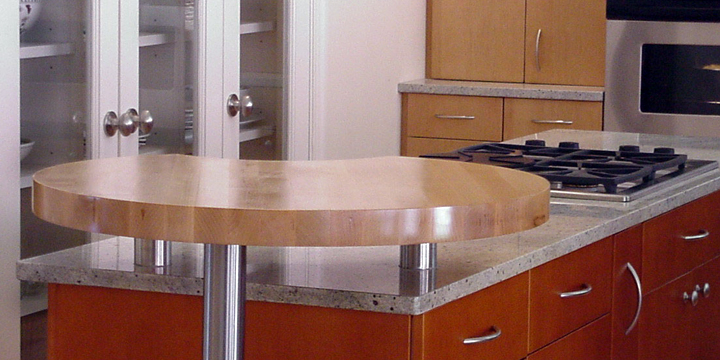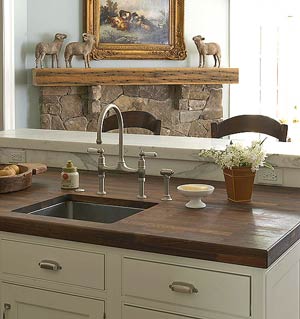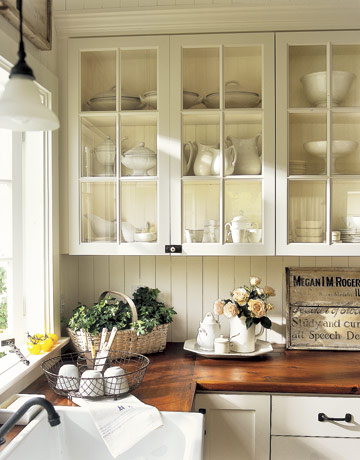 And…then there is always that one…..that does not quite "get it". This is that one.