This is the first in a series on building a new home and the pain and pitfalls to avoid! In this article, I discuss important tips on window placement in bedrooms and other rooms when building a new house.
Building a New Home
Building a new home is an exhilarating and exciting experience. You get to choose what you want, how it will lay out, select shiny new things- Joyous- until it is not.
A bit of masochism is involved and no one will tell you this. You will love building a new home yet there are so…many…decisions. You will second guess much of it and  often will not know what you do not know – until it is too late to change anything.
Importance of a Good Designer
There is a lot of trust going on that all of the pertinent details are handled in the planning stage but the simple truth is they are not.  The best thing you can do is hire a very good designer to help you through the process. This service is worth every penny!  Of  course we would hope that you hire us!
But if you do not hire a designer, plan to spend time learning more than you may have bargained for about navigating the slew of details!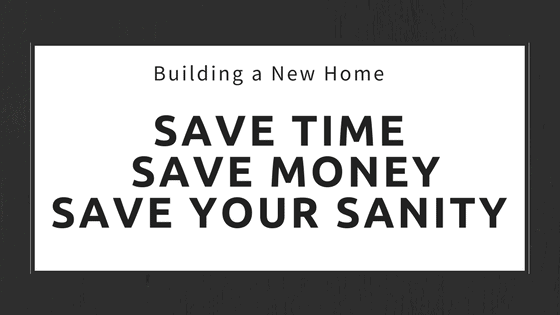 So you have your dream home plans and…
You have been reviewing with your draftsman, Architect (your mother, father, sister, neighbor, mailman…) Is the size of the family room big enough? Where will the piano go? Is Charlie's room bigger than Susie's? Whatever is important to you is probably what you have focused on during the plan creation phase of all this. That is great work.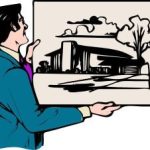 BUT. There are things you need to pay attention to that shockingly have nothing to do with what may seem important to you.
Window placement, style and location as it pertains to furnishings
Did you you know that windows are one of the first things your contractor will want to order? These decisions are critical because they are expensive and once ordered, they belong to you.  I could do an entire book about this problem!
Window Placement in Bedrooms (especially the master bedroom)
If you have a common layout with a bed set between windows…where will your nightstands land? Meaning, if windows are too close then your bed overlaps the windows and this is major ugh.
If they are too far apart then your nightstands are not centered under the windows and another major ugh. Pay attention the electrical outlets too – who wants to contort like a cirque du soleil performer to plug in your lamp, alarm or phone charger?
Make sure you are locating these outlets where you need them – codes dictate spacing but you can add them where you need.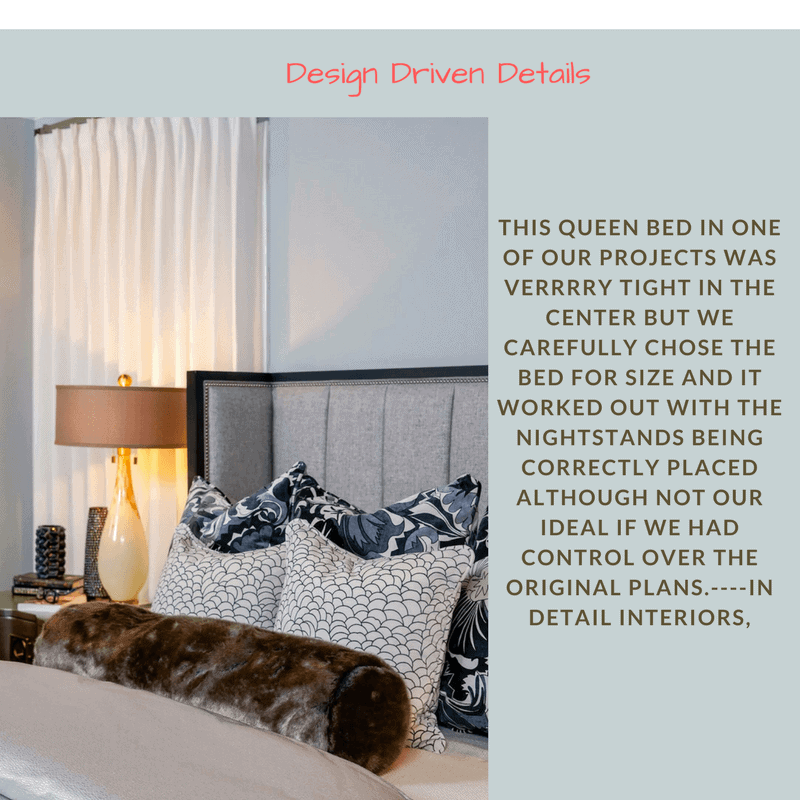 Space for your window treatments to "live"
It is also very important to make sure you have enough room or stack back space for window treatments. Nothing like building a beautiful new home and then realizing someone was not paying attention to the window placement and window treatments are covering glass because there is not enough wall space to "stack them back". Planning how you want to cover the windows is key to not having any surprises later.
Consider carefully windows in bathrooms
I personally hate windows in showers – they are a primary reason many people call us to start a bath remodel – mold, rot, leaking. So why?
If you want light in your bathroom, and of course we all do – then put a window where you will get natural light in the most effective space.
Please oh please do not default to a window over a tub either – sometimes this is perfect but often is not – and becomes this huge issue to get to the tub valves leaning halfway across the tub if they are on the backside – not to mention the issues with dressing the window.
Lawd! (lots of grumbling here – cue one of Cheryl's pet peeves)
Why spend all this money on a great window showcasing your tub (???) then have to put obscured glass on it or some sort of shade where you have to contort yourself like Houdini to get it open and closed – so it mostly stays closed. What is the point?
Put the window where someone is putting makeup on or contact lenses in – where you need the actual light, And forget it over the tub if is just a default location – unless you love your neighbors and you are an exhibitionist!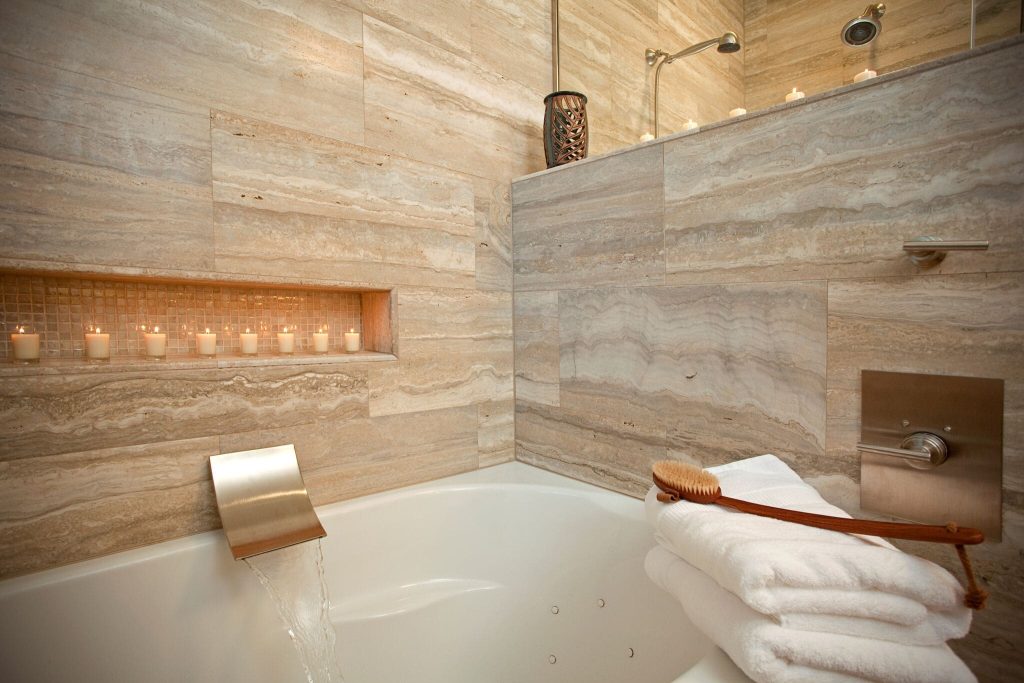 Think about the style and size of your windows
Another advantage to reviewing, oh so carefully, window placement, is creating unique opportunities for adding light and stepping away from the same old same old such as we did in the photo below.
This was a budget job so we could not do custom – but we did take the one typical builder's grade window and made it into two – so the hood became a focal point and allowed us to spend a bit of the budget on additional tile.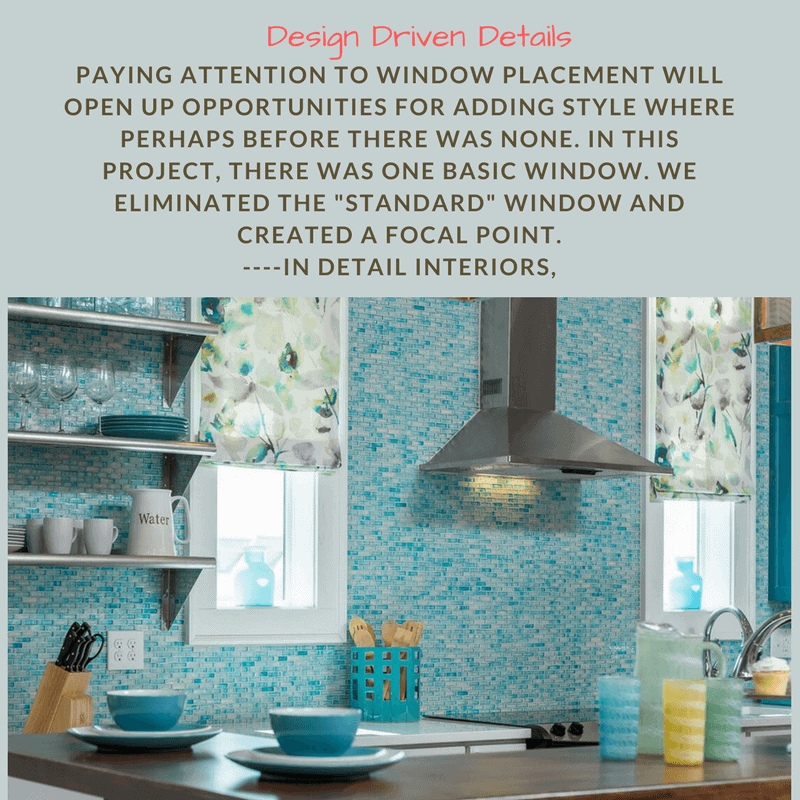 But you also want to be sure the type of windows selected flow with the rest of your design. In other words, it is important in this case to rely heavily on your Architect for guidance on the style of windows to fit your home's overall aesthetic.
I am one to want to own a lot of the interior appointments and details of a new home build, but respect so much an Architect's ability to make the exterior vision cohesive.
Do not neglect the creative options of custom design
In this concept kitchen, we created a window style to fit the style of the space I had envisioned – somewhat European and embracing curves and lots of glass visible. Creating custom windows is an added expense but in some parts of your home, it might be worth exploring this if it adds to the overall appeal and value – one stunner can deliver huge results.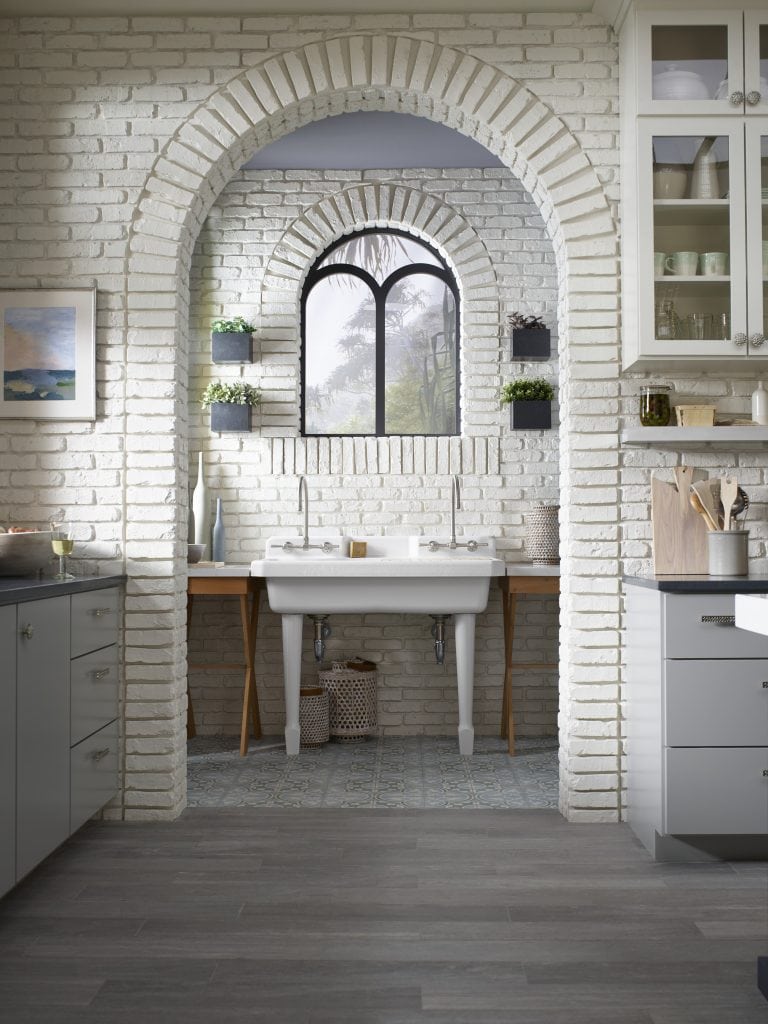 Next week: Electrical plans. What are key details you need to know! And make sure you check out our post on 5 mistakes people make building a new home!
If you are currently designing a home with an architect (or plan on doing so soon), you definitely want to check out our Plan Review service. It could save you thousands of dollars and dozens of headaches during and after your custom home build.