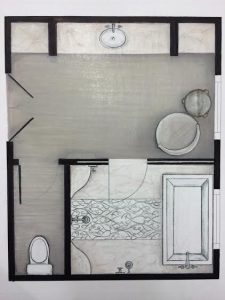 This is a sensuous and feminine space designed for bathing.
Not simply taking a bath or taking a shower but to actually enjoy the process of starting your day with a deliberate act of bathing in a leisurely manner…as well as the process of ending your day with taking care of your own "self". A space meant for a relaxing and beautiful experience.
And why not? Your bathing rituals each morning sets the tone for your day. And, at the end of the day can be a welcome respite from the day's stressors and inspire togetherness.
The bathing room here is designed for two people to share.
Share a cocktail, share a sink, share a mirror and share the shower and tub in the same wet room concept….with the added benefit of a steam component. The two curved seats are designed for his and her steam experience seating. The shower fixtures boast platinum nickel rain heads and hand shower components. !
The toilet room is enclosed for privacy and has an ombre gold wallpaper along with more molding details in the same replicated backwards C's along the lower half of the wall.
The Vanity area is anchored by a large one bowl vanity with intense lighting pendants hanging to illuminate the space. Additional storage is behind the alcove doors. The 5th wall features beautiful wallpaper with glimpses of Art Nouveau styling.!
I see the woman of the home sitting on the custom velvet "tuffet" or in this case a chair, taking off her shoes then tucking her feet under herself and pouring them each a drink from the vintage inspired bar cart….all the while talking to her husband as he uses the sink and shares his thoughts. After they converse, they may share a relaxing steam shower to wash away the stress from busy lives.
The inspiration for this DXV bathroom is from the pages of history within the 1920's Art Nouveau movement.
Fluid and graceful and relaxing. Feminine and pretty. Stunning materials and elegant fixtures in a polished nickel finish help to establish the ambiance of relaxed yet sophisticated luxury.
See all the other designs on the DXV website!
If you enjoyed this post, you may also enjoy this post discussing full service interior design.