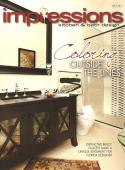 A unique balance of clean lines and stark contrast
We love the overall feel of this bath. Pretty and serene with unique touches in the custom vanity to keep it looking stylish for years to come. The hints to modern that balance a little East Asian flair in the art and lighting (man do we love gorgeous light fixtures!) An example of keeping the design intent simple and focused to classic design without landing in a traditional, dated space!
Want to see more of our Asian inspired Designs? Check out this Asian inspired master bathroom remodel on Pensacola Beach! We can't get enough!