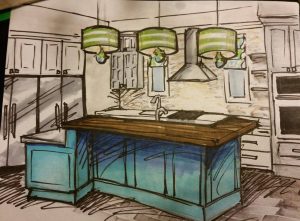 This colorful and fun kitchen is the flip side of a coastal duplex!
The owner lives in this duplex part of the time and rents it occasionally. The owner needed a budget-based plan that also would withstand the test of use by renters. We planned the kitchen from the inception, although we were in constant battle for the contractor to keep to our plan! 
The key was to design basically a galley style kitchen to keep each task in its own zone
Therefore, multiple cooks/helpers could utilize the space to prepare meals for the large family and guests. We achieved a great layout by treating each area as a zone.  Including a prep area and good work space separate from the cleanup area. The refrigeration was designed to be at one end so that people getting in and out of the space would not interfere with prep and cooking activities. We added the second window to eliminate some overhead cabinetry and take advantage of the views.  We planned for just enough wall cabinets to house the everyday glassware, and all dishware is kept in drawers. The tight budget did not allow for higher end appliances or custom cabinetry, and this was the largest savings.
We also negotiated a good savings by making both units the same quartz, stainless, and wood tops on the island. We wanted the units to flow and harmonize but not be the exact same feel, so we adopted a color scheme for each side. We then coordinated decisions against the master plan of two primary color ways. Keeping the individual layouts the same. We gave each kitchen a distinct personality by utilizing strong saturated colors against neutral backdrops:  statement lighting fixtures, taking interesting tile all the way to the ceiling (a calculated expense), and with fun accessories which were included in our scope of work to furnish. All in all, we created a fabulous entertaining kitchen for multiple people to help prep and be fed, while maximizing the budget. It is all about spending the money on the RIGHT selections to create the "wow" without the hit to the pocketbook.
Objectives:
Space needs to allow for multiple people helping prepare meals

Create

 

enough space for ample seating

Make it look awesome

Stay within budget
Design Challenges:
Small budget but decent sized space

Had to withstand some rental use and abuse

Contractor employed his own cabinetmakers on site (creating a situation that required major communication skills! Reading the plans was not always an option)

Long space so island was long as well… needed to make so that no seams were present on the island
If you like this post, you may also be interested in reading about the budget for a condo living room with before and after photos!