Determining a budget
We get asked about budgets every day- and of course defining a budget for your design project is very important to the success of your project.  But if you are like many people, you perhaps have not shopped lately for furnishings and this means you really may not be aware of costs of furnishings and all that entails.  Let's talk about just one room now and later can get into entire home budgets. We have also included our fave paint combinations for this home too!
What goes into determining a budget for a one room project?
Size of room overall- how much will fit into the space
Size of windows -more windows means more cost
Your wants- what are your goals in redoing the room? How do you want to feel when you walk in?
Your needs- what is the function of the room? Who uses it and for what?
Site conditions that may dictate necessary fixes or changes- many projects begin with a problem that can no longer be ignored!
Your appetite for original art ( ok well- that has to go on my list for sure!)
This project dissected below was for a downtown condo. (by the way, it recently sold for a nice profit and I know this is because of the changes we made- they said so!)
This condo was to be lived in by the owner- so not a rental.
Design Statement- In Brief
A downtown condo approximately 6 or 7 years old, this home was purchased for a client who needed a second home for business entertaining and occasional weekend stays. The objective for our firm was to update it within a reasonable budget, neutral tones, welcoming feel but casually sophisticated.
The before-Living
Our general recommendations
Flooring-
The client hated the tile floor and it was coming up in a few places so new flooring was a must. We could have done less expensive wood but the "wants" came in at a  beautiful wide plank wood in a darker color and provided a masculine backdrop for the furnishings.
Kitchen-
Redoing the kitchen for such occasional use would have taken up to much of the budget. We recommended painting the cabinets and a new tile backsplash.
Living room-
The living room was awkward- a very long space that made viewing the television tougher- one wall all doors to the balcony and the other side was the open floor plan kitchen area. Rectangular rooms can be super tough! See how we treated another one in this blog post.
We selected new casually sophisticated furnishings, added wallpaper to bring the far wall into the room more and airy window treatments for a lighter visual weight and to contrast with the dark wood floors.
Bathroom-
Minor updates due to budget- we added wallpaper, painted the vanity, new countertop, mirror, fixtures and called it a day. Oh and a nicer custom made shower curtain!
Bedroom-
This room was small so only a queen bed would fit- the windows needed to be black out so we added this to the budget. The closet also was not very well planned so we opted for a closet system as well.
We painted the ceilings a dark blue to bring some sense of style to the basic room and selected new furnishings and designed custom bedding and window treatments.
After pictures-Living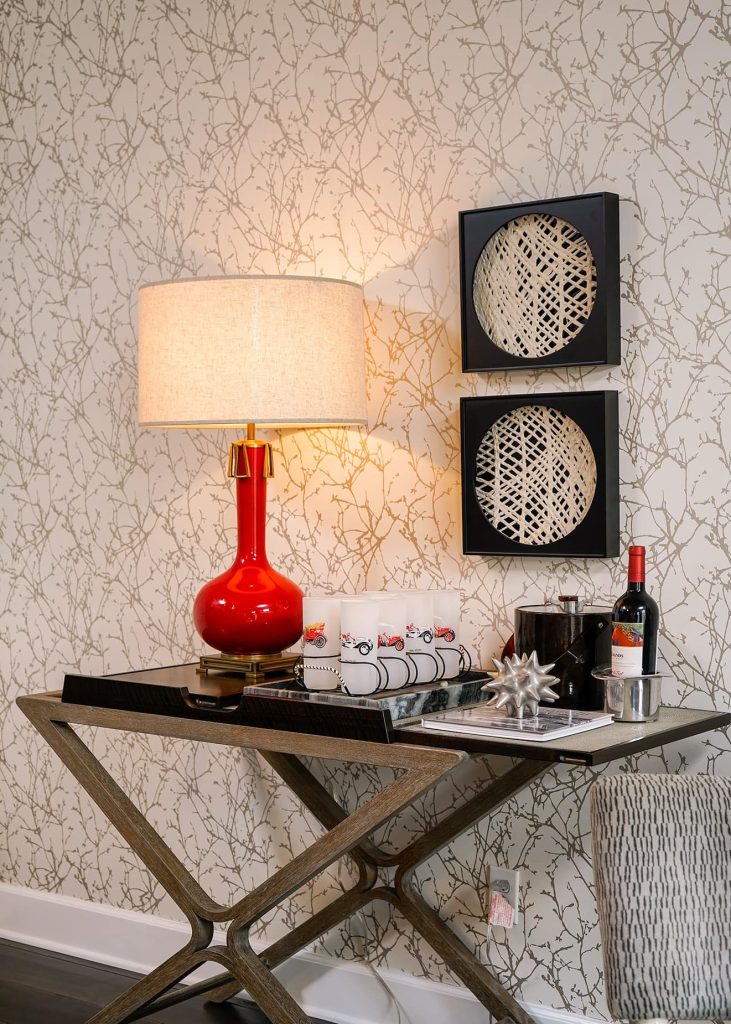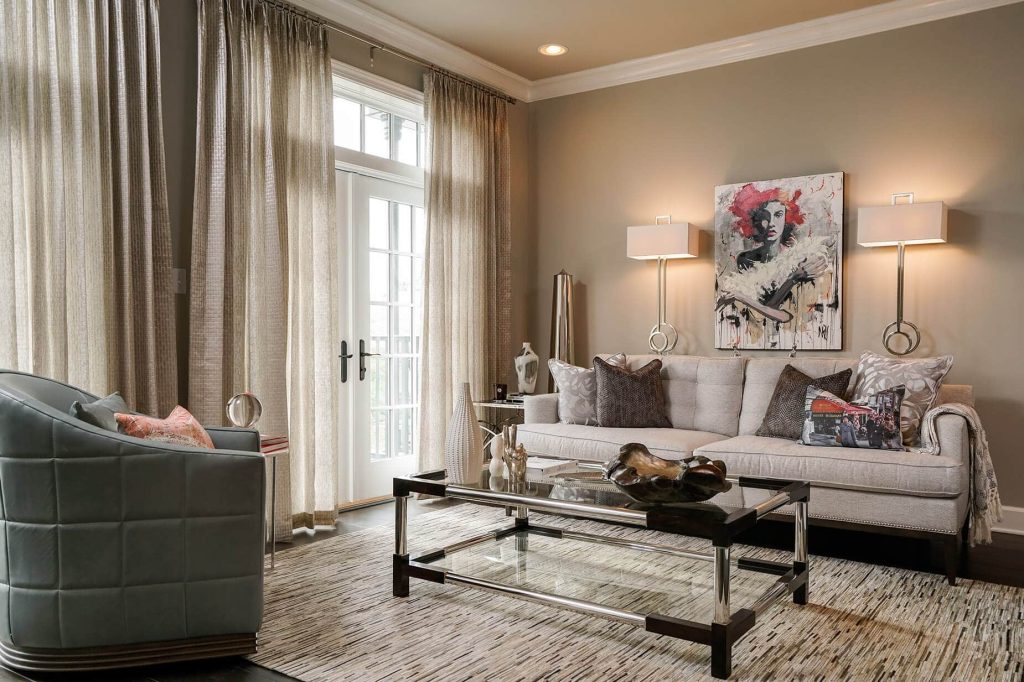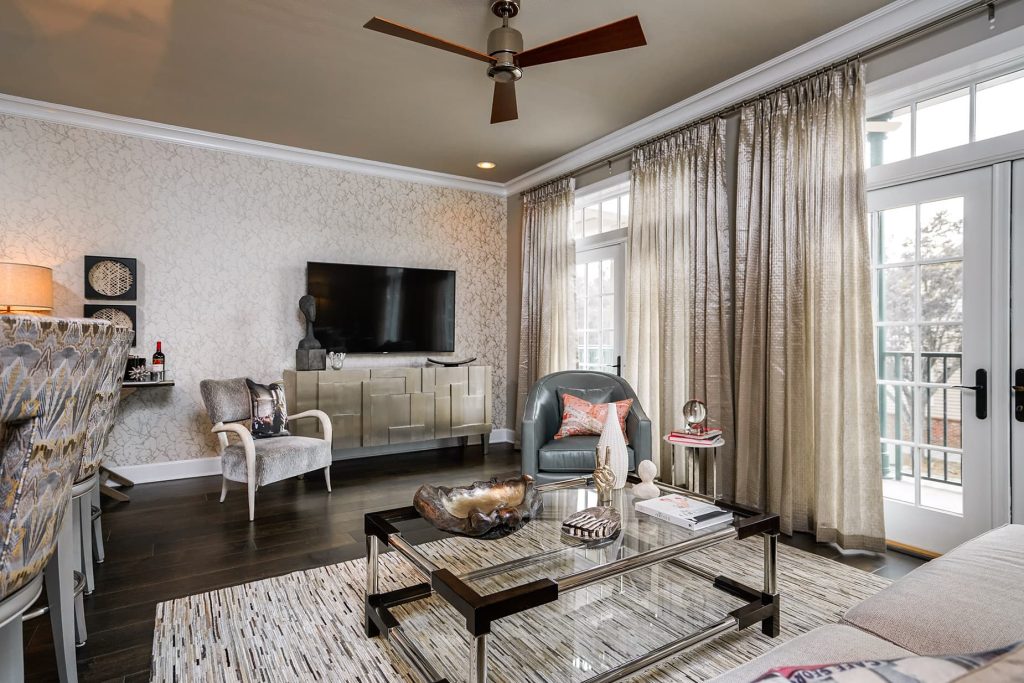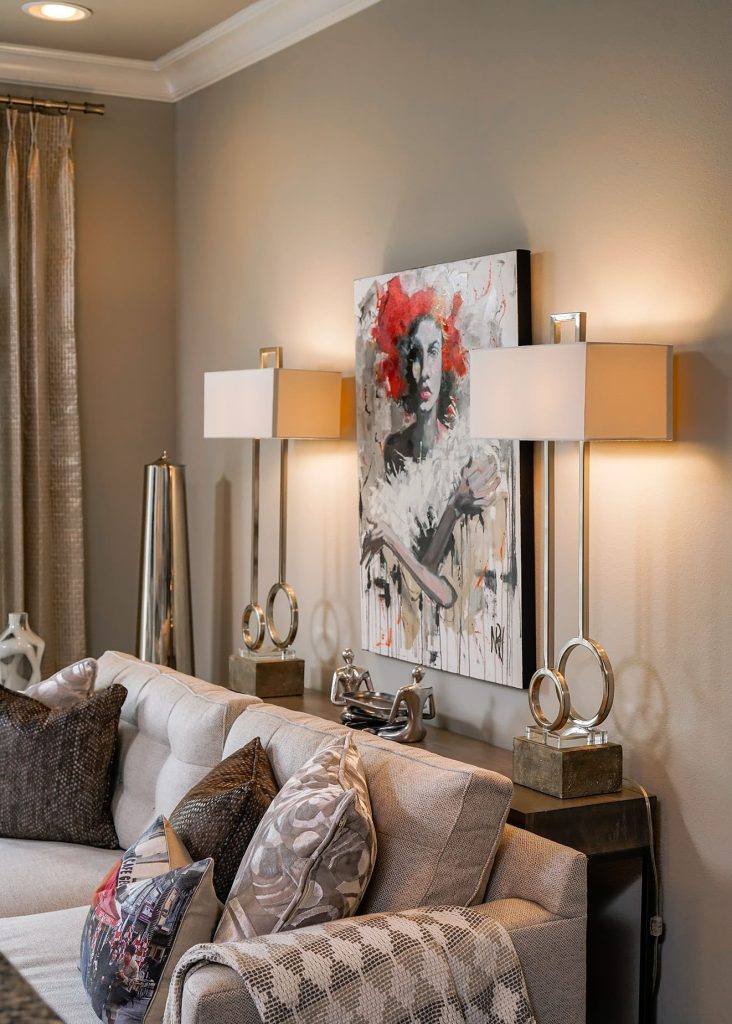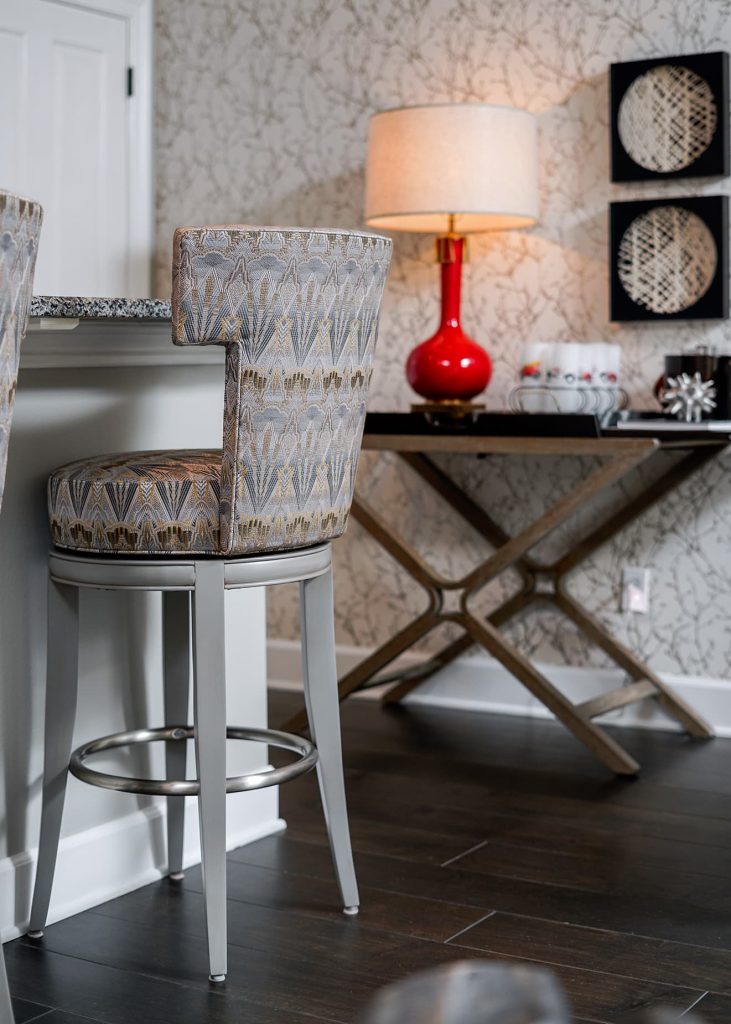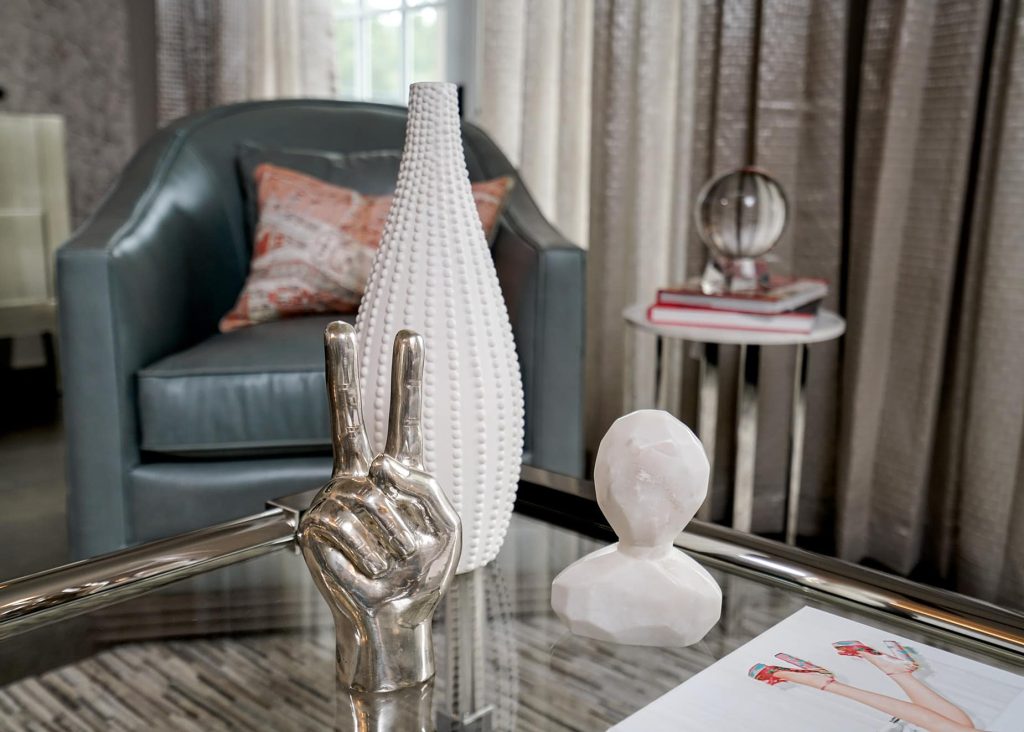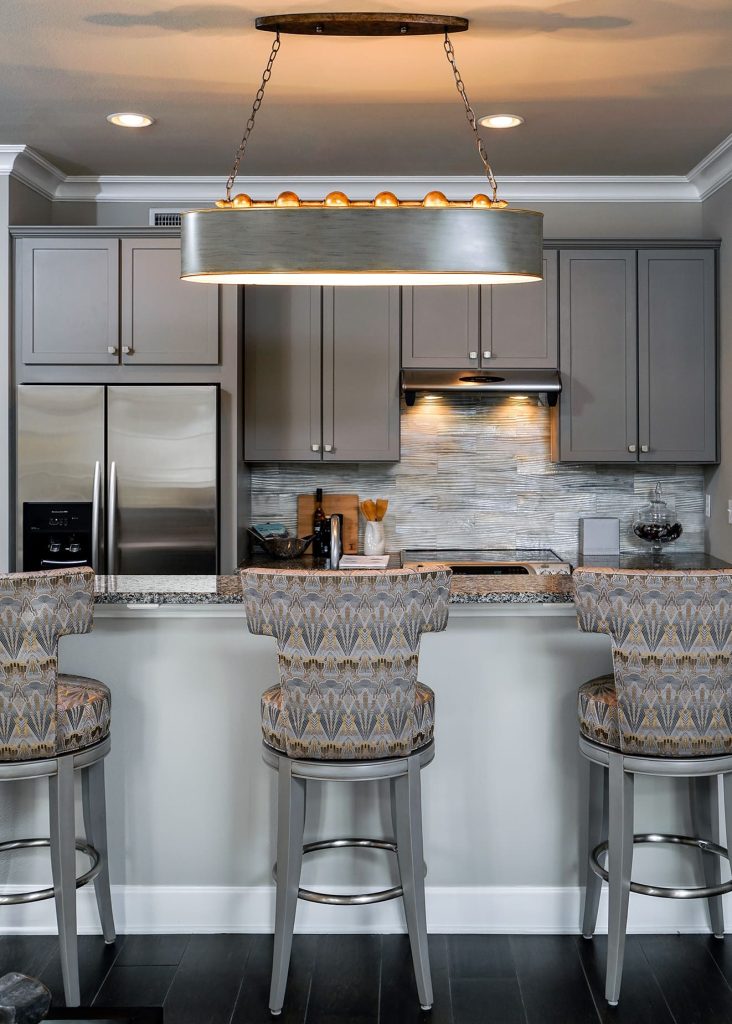 So what was the furnishings investment in this gorgeous transformation?
The entire budget for furnishing the condo ended up around $53,000 plus painting and the new flooring and some odds and ends labor that does not run through our shop.   This total included the beautiful custom bedroom seen below too. The costs below do not include the design fee or labor to hang art or window treatments.
The break down on the living room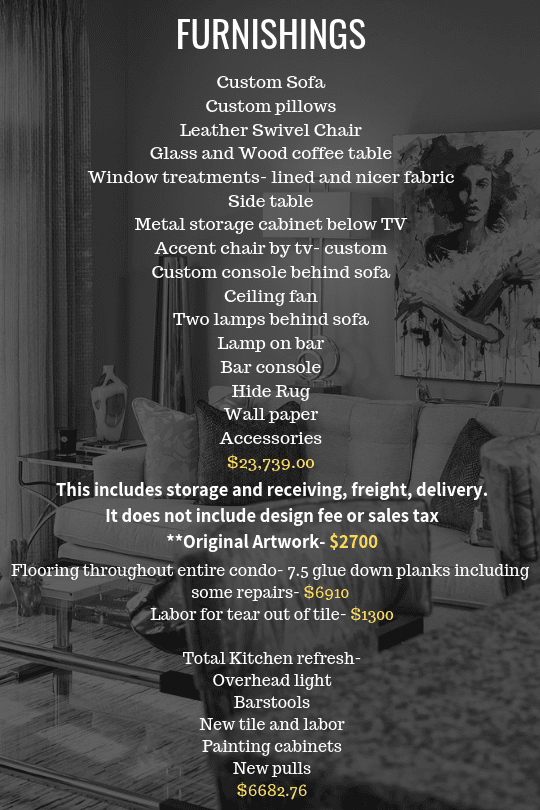 Is this the minimum for redoing a living room?
No definitely not. We have done beautiful work for less and also killer places for three times as much. The idea to convey here is that there is no set budget- for anything. The percentages people toss around or the "per room" costs are based on averages but who is average these days?
As much as we as individuals are all different so are the homes we live in and our wants and needs. Naturally to hire a design firm like ours there has to be a willingness to invest in the space or we cannot do our job properly and execute the type of spaces you see in our portfolio.
We do offer planning and ideas only which we do through our online "Design on the Go" platform or "In Detail Says" short online consult meetings but this is not going to yield the same results. 
Most clients have an idea about the amount they are willing to invest
We have found that everyone has a budget of some sort- The key is to make the budget work for the space and the client and make the right decisions on what to spend where- and we are very good at this "balanced budget" concept- but also will gently push you out of your comfort zone to infuse unique pieces and luxurious textiles and finishes. After all, this is one of the reasons you are hiring a designer in the first place- the experience, creativity and knowledge about what works.
But it is  critical for us to have a good idea of a budget range or we cannot do our best for you- how would we know to show you xxx or yyy if we do not know where you stand on a total investment? We ask this question outright to some clients- and we have yet to find one who says oh nooooo don't show me anything really awesome- just because of the budget!
We want to ensure we are making the best decisions and it is a little like when you buy a piece of real estate- you need to look a little higher than what you think can afford and then weigh the advantages of each direction.
Trust is key
For us, we are very relationship oriented with our clients- after all- we are about to be in close contact for several months! Trust is important and this is why we encourage potential clients to read our reviews, talk to our clients if you like, ask us questions- and not to be shy about getting the answers you need. We want to make the design and remodeling or new construction process painless and fun- and we hear this every day from people including the client who hired us for this condo redo!
"Very professional and compassionate.
Works well with you to fill your desires and has a keen sense of pride in her work. Absolutely a great person to work with and fun too."- JR
A few pictures of the master bedroom!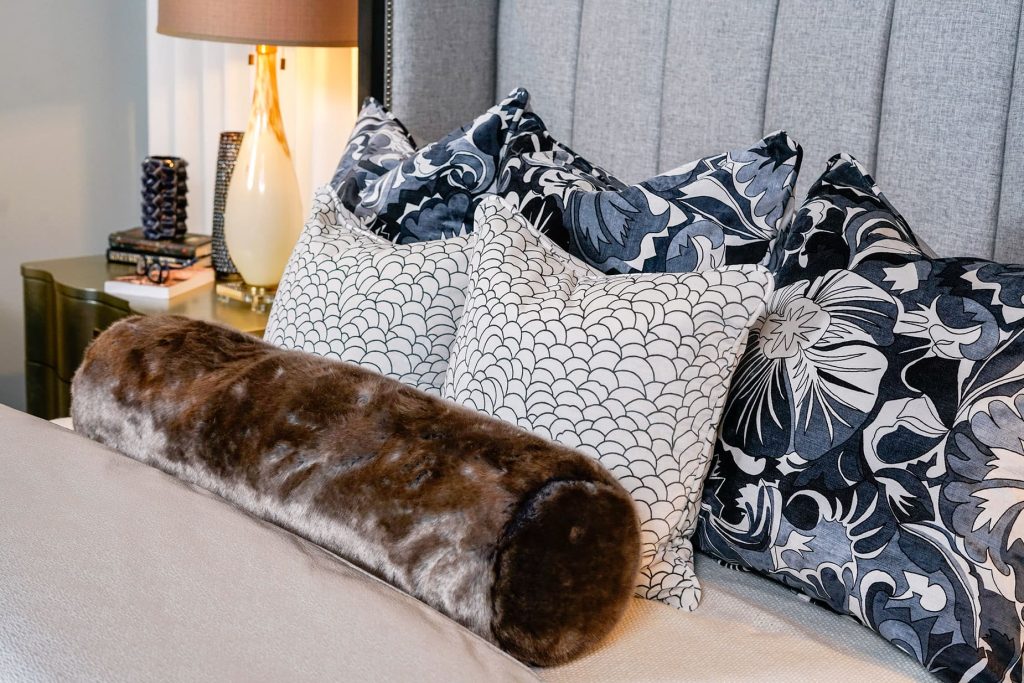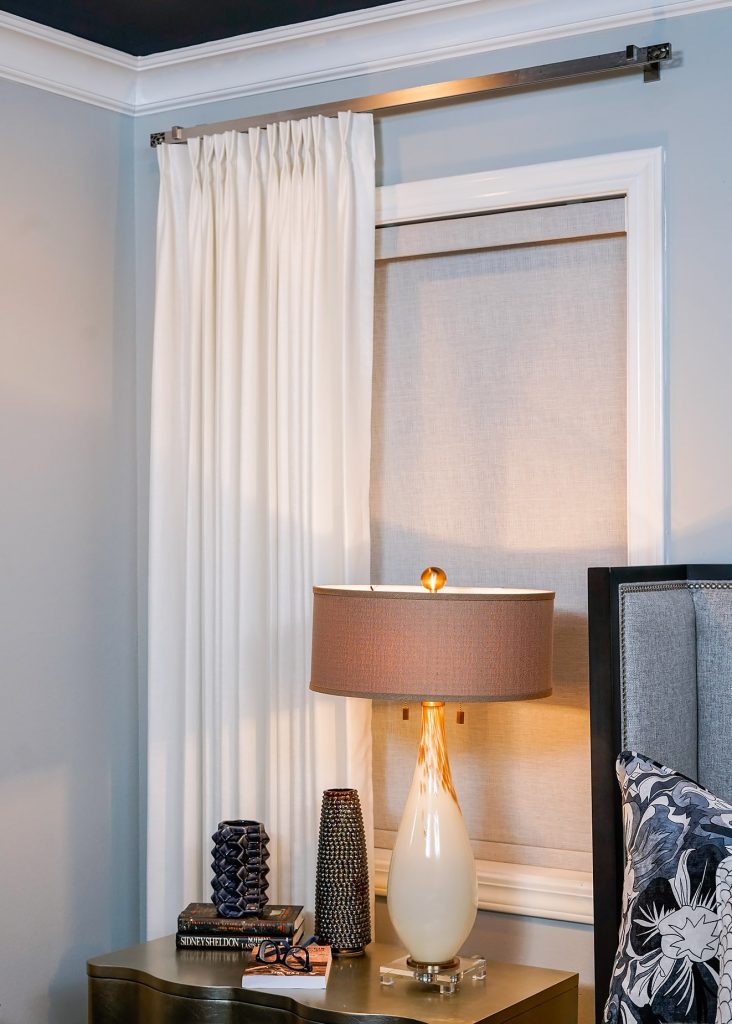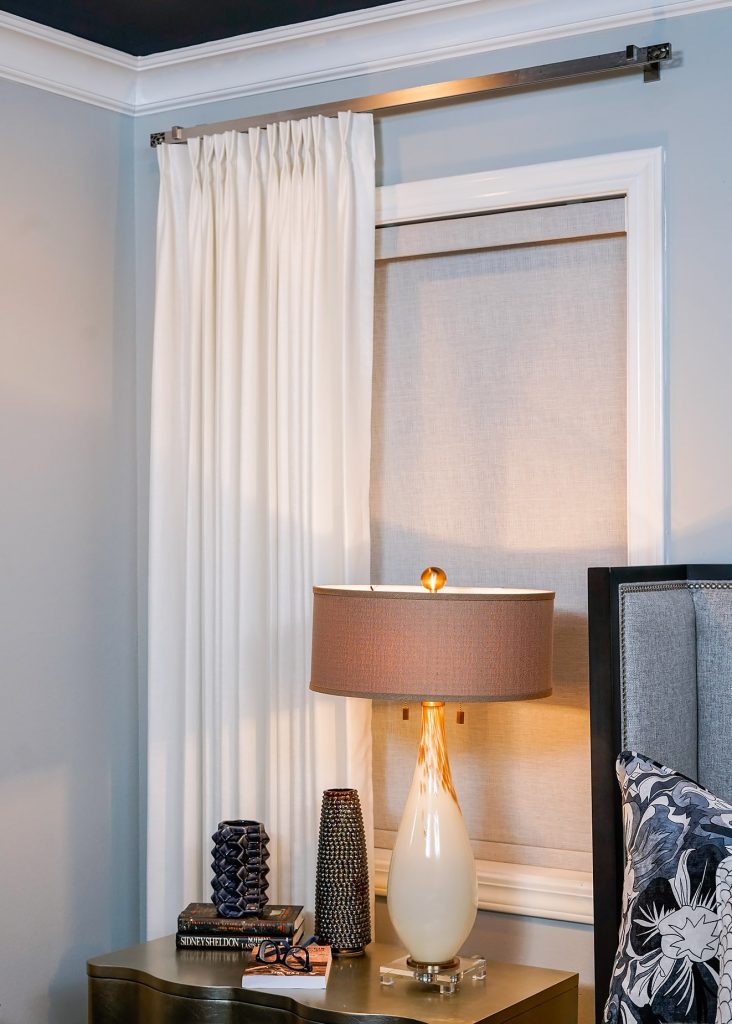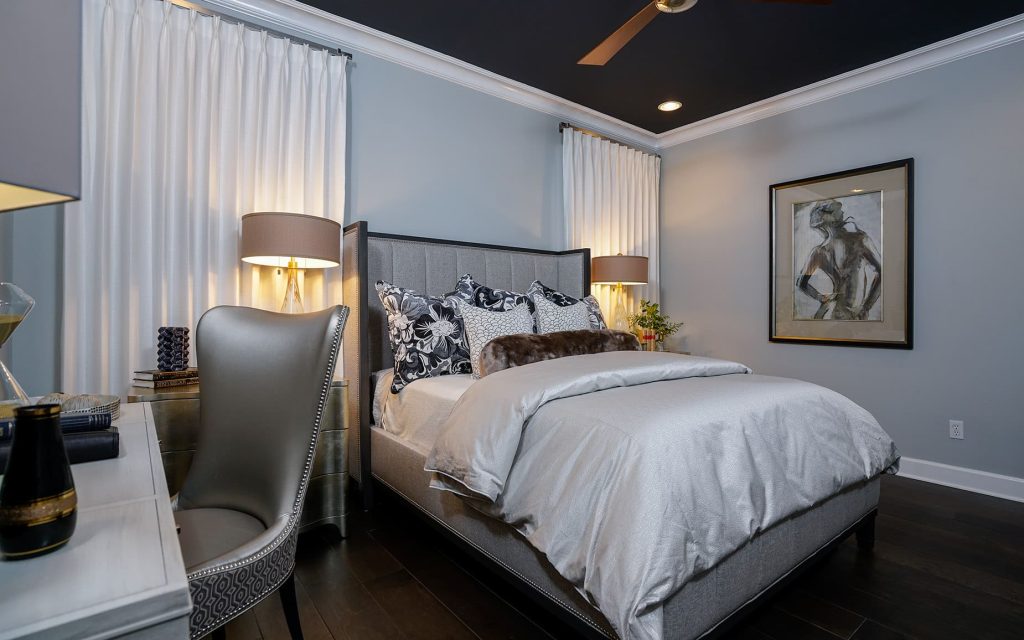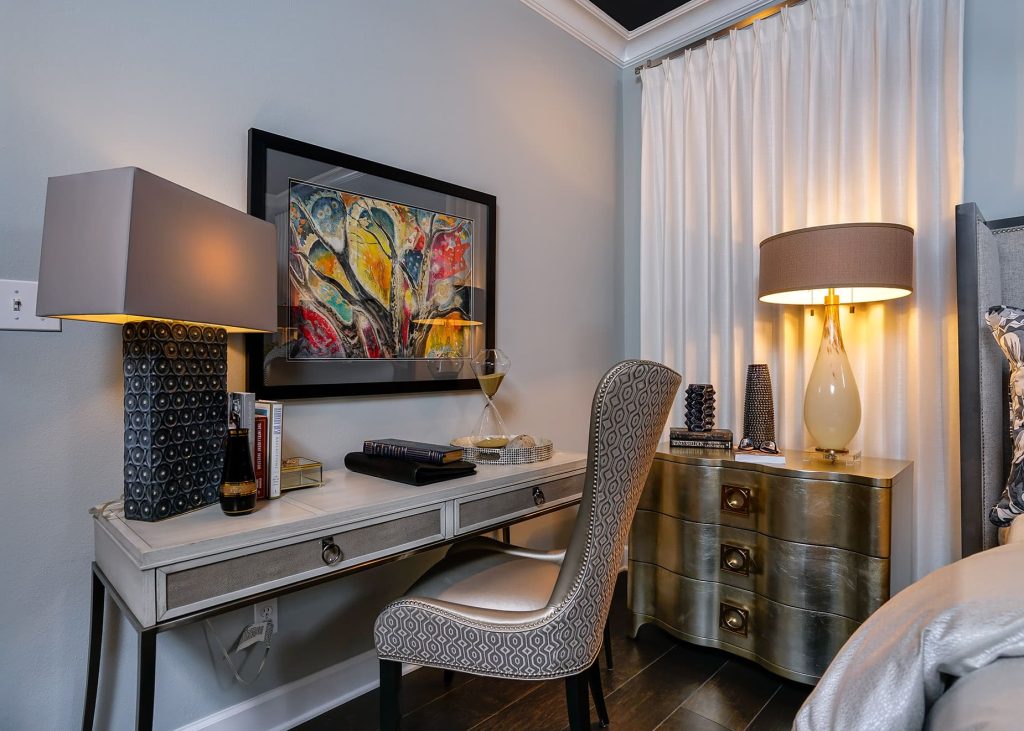 I hope this break down has been helpful when planning your budgets- and if you want to have us help you put together one- give us a shout!