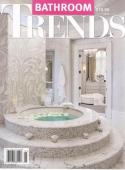 This new, yet small master bath was added on to an existing mid century modern home. Having enough space was a challenge as they could not exceed building setbacks. The young homeowners desired a functional space with a small tub and walk in shower and enough counter space to satisfy both husband and wife. The original architect's plans had two small vanities back to back and a separate tub and shower. The client's came to us asking for a better layout and a modern retro style.
We reallocated the space to include the Neptune 60 inch wind tub actually sitting in the 8' ft space previously designed for an entire shower. This tub has a great look and the size was perfect. It still allowed plenty of room for a walk in shower. The shower floor is made out of small pebbles that lend to the organic  feel of the room. We used  resin inserts in the vanity doors that are made out of bamboo rings.
We wanted the mirror unit to look contiguous with the custom wall hung walnut stained vanity and "read" as one unit…but the space was too long for standard sheet good sizes of 4×8. Thus we had seam issues. To solve this problem, we hid the seams behind the mirrors and simply made the mirrors 48 inches tall as well. This greatly pleased the client as it also held the cost down on this impressive looking mirror unit.
The countertops are blizzard ceasarstone and the sinks are green glass. The floor is porcelain in an interesting 12×24 size running vertically into the room. The master bath is a treat for the senses!
If you liked this post about a small bathroom, you may also be interested in reading this post about a small kitchen remodel.