Who has a small kitchen that needs to be reworked?
Raise your hand! It seems like we have calls daily needing small cottage kitchens remodeled on a budget – but most people do not understand even small kitchens can cost a bundle!
The key is having a plan!
Read about my thoughts on having a plan HERE. A plan is not just a layout of where things will go but a blueprint for the project including the layout, details on design, product selection, specific drawings and elevations, a protocol for handling the job site in general ( lock box or homeowner must be home etc) and many other critical elements that must be in place prior to commencing.
How do you know the real costs of remodeling a small kitchen? 
Once people get over the sticker shock of what things cost- Most people do not do enough remodeling  to really know- then you get down to the nitty gritty and realize until you have a plan and it is estimated on your specific circumstances and site conditions, you will not know. And if you trust general shelter magazines for your data- you really could be in trouble as so often writers do not really understand the process enough to  dig into all of the costs. Regional differences especially in terms of labor can vary wildly.  We are lucky in our area as labor seems to be a little less than it is in other areas- but hard costs are on the rise and this will effect everyone across the country.
Small kitchen deconstructed
So let's get to it! The most awesome thing about this project is that while their budget was slim, they recognized the need for professional help to maximize the space and create a warm family kitchen they were proud to show off to their friends.   No real construction on the footprint could take place so we achieved the objectives with a lot of creativity, color and careful choices on where to splurge and where to save. Versatility in fabric patterns and textures in the backsplash added a fun but appropriate wow-factor that was just right for this fun, busy family.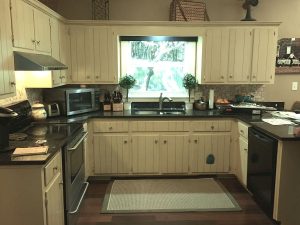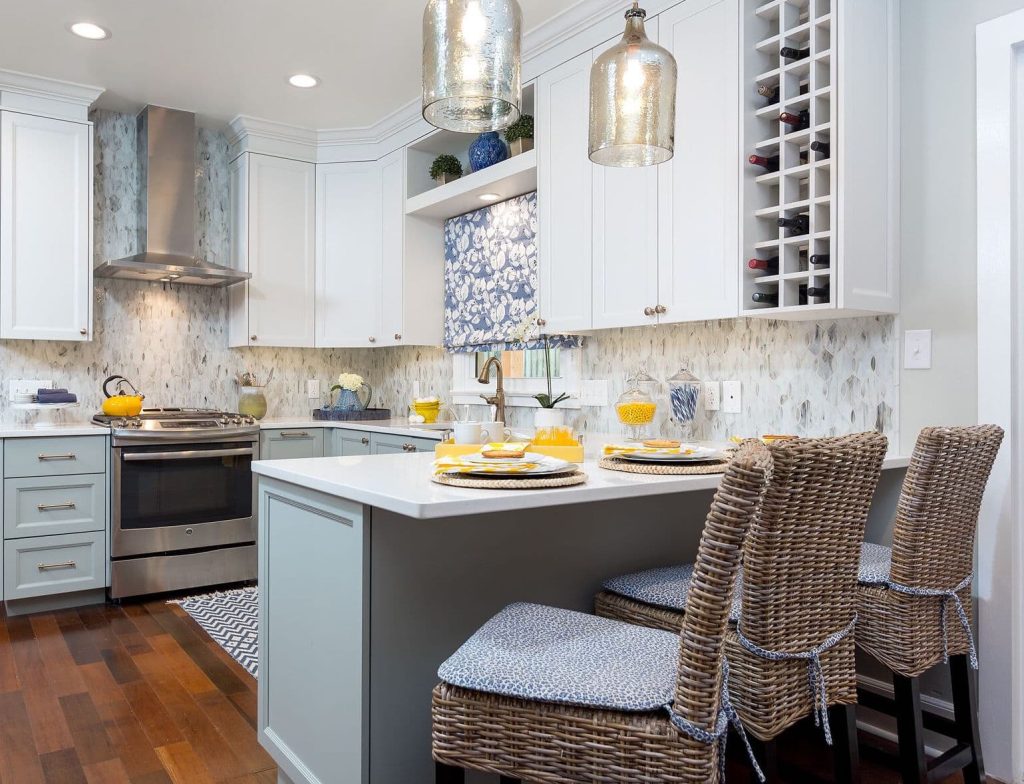 Determining a client's wants and needs is a critical first step
Objectives:
Update the overall look of the kitchen space to a classic colorful bungalow aesthetic

Maximize storage

Create better seating at peninsula for kids (not enough knee space as it was)

Be on trend without needing to remodel again in 5 years

Stay on budget!
 Challenges:
Budget constraints

Keep kid friendly

8 foot ceilings and a soffit with duct work inside

No ability to enlarge or change footprint

Table and chair seating by the main doorway to the backyard created traffic jams

Poor lighting overall

Dishwasher was in awkward location away from sink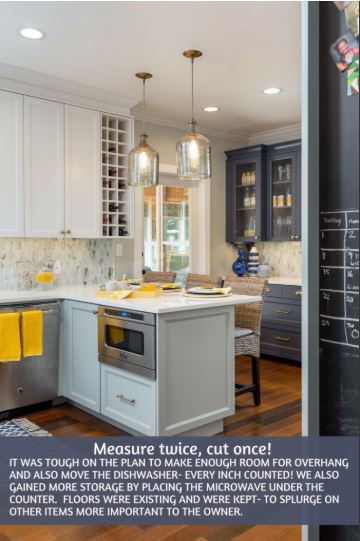 Once final decisions are made, budgets approved and subs scheduled we order materials and set schedules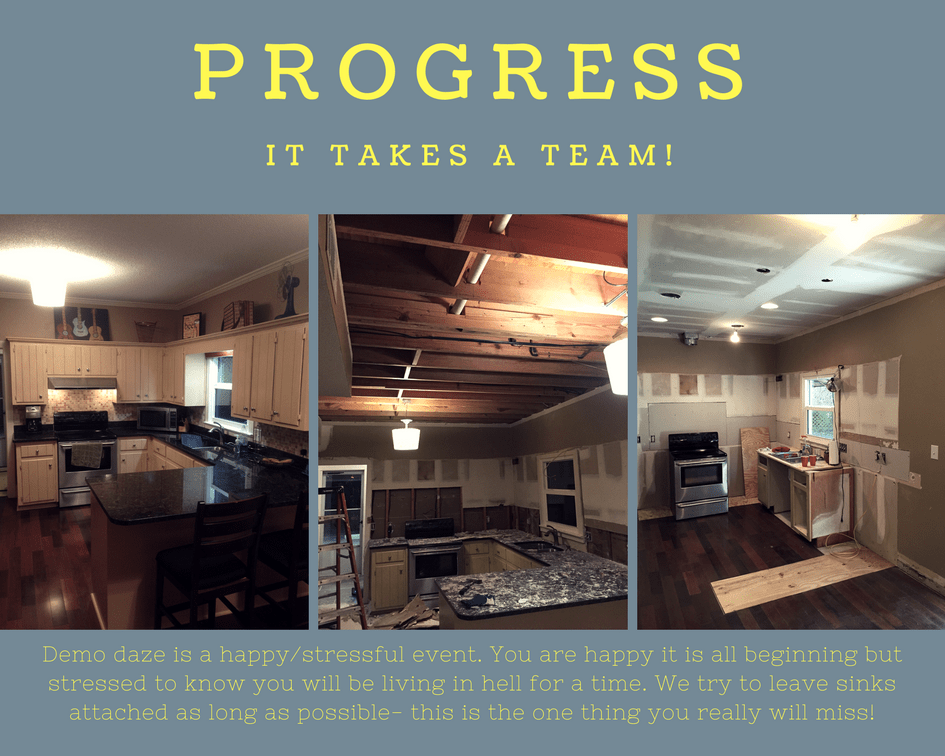 Special details in this small kitchen
Furniture style hutch in Ben Moore Mysterious (deep blue)

Interesting pendant lighting which was a splurge!

Stained glass tile backsplash in white irridescent 

Magnet chalkboard on side of refrigerator

Cabinetry to ceiling with large frieze and crown

Upper cabinetry a lighter shade than base cabinetry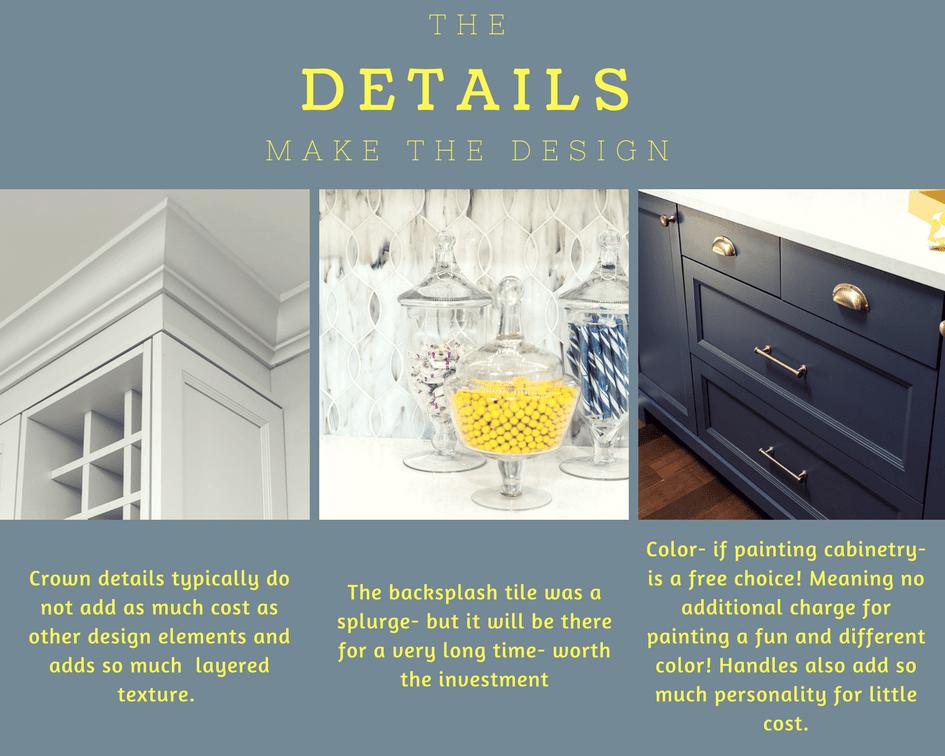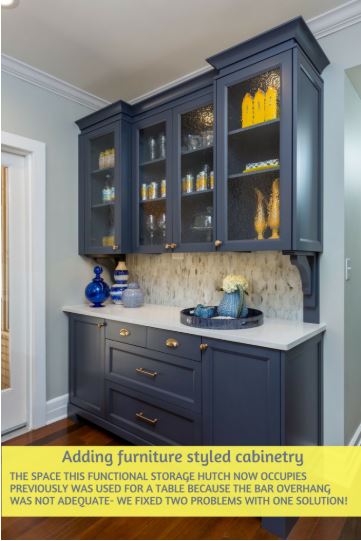 So- What did it cost?
Remember- floors stayed so this saved on the budget as well as smaller tasks the owner was able to handle as well. The footprint not being able to grow kept labor costs down significantly. Note: Design fees were a separate contract.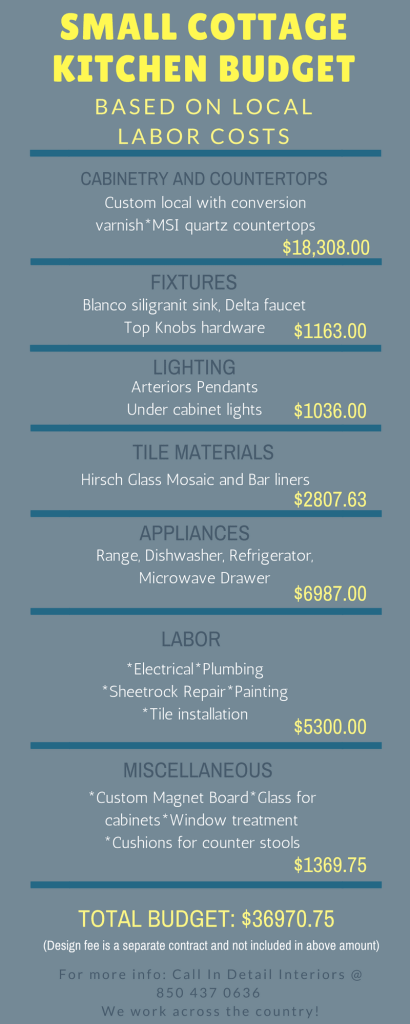 Key points to remember when remodeling a small kitchen
Guidance was sought to not only help the client solidify their style but also to be sure little to no mistakes were made in order to gain the most impact from the budget. Even small kitchens can benefit from pro advice.
A plan was created and followed.
Decisions were balanced as to saving and splurging.
The process was as much fun as any renovation can possibly be and the clients were champs at rolling with the inevitable snafus that came about!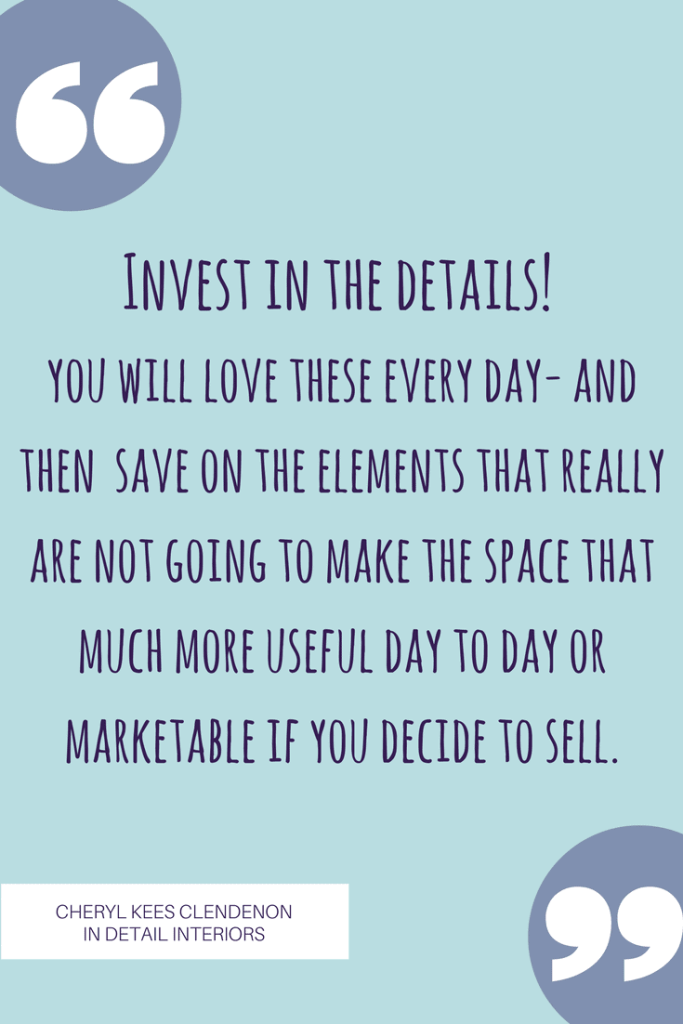 This kitchen won a national award from the NKBA 2017 for budget friendly kitchens! Check out these other two NKBA design competition winners from In Detail Interiors HERE and HERE  in the budget kitchen category!