NOT VERY!
Now I am just saying it once and for all: I am O-V-E-R all the Restoration Hardware burlap sack and rusty iron era of design.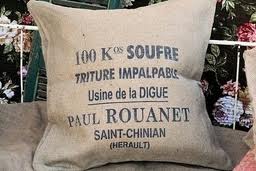 Old, torn, ripped, flour sack linen with french words all over them and rustier-the-better splintered tables….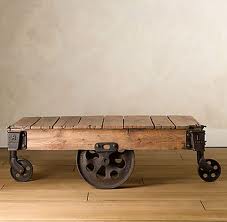 WHEN did we get this insane fascination for all things French especially their flour sack upholstery and pillows in a language that most of us cannot even read??? These ridiculous pillows could be saying something we may blush over! Who would know? And for gawd's sake they are not even comfy to lean against much less put your sweet head on if you decide to take an afternoon nap on the sofa!
The deal is once this look becomes so prevalent that EVERY single manufacturer at the HIgh Point Furniture Market has some obligatory token of the "look"…it is O-V-E-R for me. Does anyone call this design? Original? Even good looking??? Was it ever?
So a good looking linen sofa?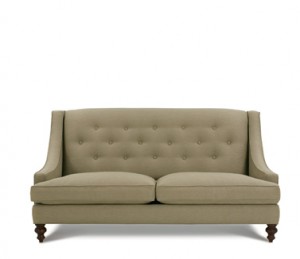 Yes. With french writing pillows? No.
With some great accent colors or even if you prefer the softer side of the linen/burlap/white look…some subtle earth toned shades….YES YES YES! Throw a bit of Romo fabrics on a linen sofa and now that is some good looking STYLE!
True antiques mixed with real age showing? Oh yeah. Of course Restoration Hardware has some great pieces too and some accents that I love and some of the simplicity of design elements are intriguing to mix with other more sassy pieces.
A little bit of rust and burlap can go a long way…but not in MY living room. Full disclaimer though: I do currently have a fab but REALLY old table from the late 1800's that serves as my coffee table. Can't beat it up and can dance naked after a couple of kir royales and not worry it will break…..oh, TMI.
So a pandoras box to be explored further in next post….do YOU think this style of "design" is innovative? creative? Or just trite and trendy? See below pix for my answer to trump the Restoration Hardware look!