Ok, so not your momma's sink!
Everyone knows I like to challenge the status quo, and when I visited imm cologne , I observed European design breaking a few of the staid U.S. rules too! Just because  HGTV says to do it "this" way does not make it good design. Case in point: Under mount sinks being the de facto "only" type of installation for solid countertops.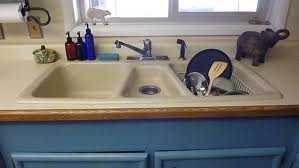 (And most definitely not this horrid 3 bowl idea that apparently was invented by someone with more time on his hands that design savvy… who wants to clear a plate in a super shallow itty bitty sink? Bah.)
But let's talk about pros and cons.
I know the usual discussion centers around sweeping the crumbs into the sink easier on an undercount version. Yep this is true. But what about the crumbs on the rest of the countertops? We do not see people installing little undercount containers at specific intervals in the rest of installed counters do we? Of course not, but would be funny to have our crumbs legislated like we do with electrical outlets being mandated every 4 ft! Lordy! Don't let the government hear about this or next thing you know it will be in the codes!
And of course the look is almost always great!
Like in this Blanco Siligranit sink. No arguments there!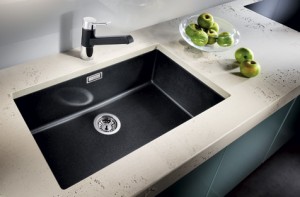 I love this sink! But let's talk about other considerations of under mount vs over mount installation.  Just for fun.
•• It costs more to polish the interior rim. In my market up to $250.
•• If you use a fire clay type sink (I have one, so I know) they are not particularly level and it is much harder to get a good and even caulk line. Thus, the rim catches all types of groodah. And this is much tougher to clean along the inside rim than outside rim! Think about it! And rarely do I see perfect installs where there is not some risk of groodah penetration along the inner rim and the sink can come loose ever so slightly from the clips holding it in place, and then this allows groodah penetration as well.
•• As stated earlier, crumbs sshmums. Arguably, one has crumbs all over the counter and no one freaks out and installs undercount "things" everywhere to sweep them into, so why make it such an issue for the sink?
•• Once you install under mount sinks, you are living with it. Forever. Or, as long as you keep the existing tops. Countless times people see me wanting to change one out and no can do, as most are with a specific radius and is most difficult to replace. Over mount sinks just need to be similar size as can enlarge hole if necessary and there is room in the cabinet.
•• Most importantly….WHOA….super style in the new Blanco sinks (and existing ones as well) that are zero radius or over mount. Making a statement has never looked so good!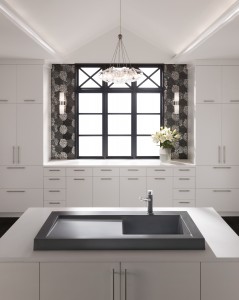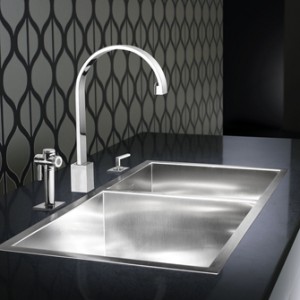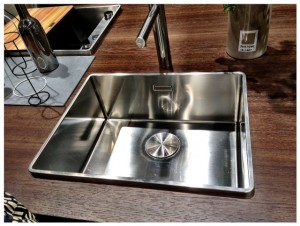 So, don't think I am against under mounted sinks. Definitely not. I still specify them more often than over mount versions.   I just hate when it is portrayed as the "only" way to do it. And, of course, I always like to stir the pot.
Perhaps before the market was provided with good looking and functional top mounted options, it was the only thing to do for solid counter tops. But now, we have options to suit the needs of each client and working surface.
And remember, don't quote me the crumb rationale unless you have crumb catchers strategically placed on all your counter tops! 🙂
Always interested in your opinions so weigh in! Don't worry I can take it!