As most of you know, I was one of  6  designers/bloggers across the country invited to the design fair at  Imm Cologne and The living kitchen in Germany.
This once in a lifetime trip was made possible by Blanco and included two tours of their factories and meeting many key people in the Blanco organization.  I cannot even begin to describe this fabulous trip and show in words.
Ok, well I can, but I need to gather more of my thoughts and photos together and also stall a bit because I am still jet lagged and using this as my excuse to not go into work quite yet. I have to do what I must to get a break you know. ( If any of my clients actually read my blog, then I am just kidding and I know my staff does not read it and they are happiest when I am not there anyhow)
In the meantime, I will start my series of posts with some of the fun events and photos from this incredible trip!
And when I say incredible, I really mean it: the country, the hospitality, the people, the show, the hosts.  Stay tuned for some of the design trends we spotted, ideas I love and news on the Blanco front! Make sure and check out the blogs of my  colleagues who attended the trip as well.  Their links are alongside their photos!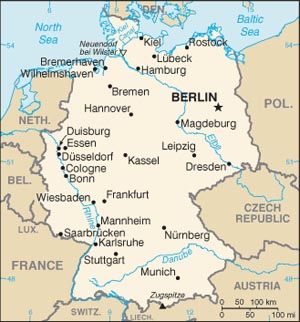 Some interesting facts I learned about Germany:
*Obscure: all the toilet stall doors opened out.
Here, they open in. Not sure which is best. Lots more room in toilet cubbie when they open outward.  But, you run the risk of whapping someone in the head,which of course I experienced. ( I was whapp-er not the whapp-ee and am not sure what the lady said to me but I do not think it was nice)
*I am a "Damen" not a "Herren" as I learned after a few beers in Bretten. Thanks to Helge, he set me straight after walking into the "herren" bathroom. ( it is very possible since only a few people were dining at the Brettener Hundle, that this man was husband to aforementioned whapp-ee and I am sure I made America proud)
sidenote #1: Emily, my University of Tennessee educated  marketing assistant/project manager assistant/personal assistant/ said to me today, "Oh German is the language most like English. It's easy" yes, well let's just say I thought for sure "herren" had to mean ladies restroom since it has "her" in the name??
*It took 632 years to build the Cathedral in Cologne….they obviously did not have my team there to manage the project and I most definitely will be informing my clients that if they think we are slow they need to get a grip because they could live in Cologne
*There are almost 300 different kinds of bread in Germany. I am going back and am trying them all. As it was, I brought some home in my carry on and ate it at what was on my German clock 5pm and thus dinnertime but on my American clock was midnight and time for sleep. This was a recurring theme.
side note #2: You have heard of drunk dialing? Well, let me say that jet lagged texting your employees and husband 7 hours into the future is worse and could get you met at the plane with a request for a psych evaluation
*When you tell the man you want a beer, he says "here, take two". So of course you do not want to be a rude American and besides how was I supposed to know Susan was so freaking disciplined and would make me drink the beer?
Side note #3: And this is how I apparently missed the alarm the next morning and was late to the show the very first day….and will never hear the end of it
*The bedding is different than the U.S. Germans sleep on one sheet with a duvet on top…and the pillows are square. Now I know where the "European sham" comes from….apparently it really is European. I always thought that was something the manufacturers made up to sell to European loving Americans.
*Germany is about the size of Montana. This explains my husband's pained expression when I said "why can't WE have high speed rail service all over America?" Ok, so I knew it was small but…Montana? Perspective.
*If you do get to travel on German trains, travel light. Upon the encouragement of my friends who will remain nameless but are referenced later as "Paul" and "Susan" with photos to easily identify them, I checked a bag. A big bag. You know about Pandoras box? Well, they opened it and I filled it. With lots of clothes and jewelry that I did not wear but that Tim Maicher of Blancoamerica enjoyed hefting into the train. In under 12 seconds. This is because the Germans really do not care about your oversized and overstuffed American bag and they will be happy to solve the whole problem by letting it fall under the train. Thank you Tim!
Side note #4: I want to say "for the record" that I have not checked a bag onto a plane since 1992 and did so now under duress. But there will be those who might dispute this.
*Teenagers 16 and over can drink beer in pubs and restaurants but have to wait until 18 to drink anything more potent. I am nervous about Ireland where my eldest daughter is travelling soon….hmmm.
*Germans love their Bier and is 2nd in consumption…behind my ancestral home of Ireland. Guess that interesting fact answers above concerns.
*The tax on consumer items is about 19% but less on food or grocery items. I would say that is a hefty one (but would pay gladly if could get fabo trains here)
*Germany has a sizable population of Turkish people. I found this interesting but you may not.
*The taxi drivers own nicer cars than I do. I found this humiliating and you probably will also.
*I kept seeing the word "schmuck" and you know, wondered what it meant since here it is a "not nice" word ….but apparently has little to do with what we term "shmuck" in the US…in German, means "jewelry, adornment" and that explains it emblazoned across several shops…but the origin is not really known although is surmised to be Yiddish or polish. Interesting 'eh?
*German customs officials are just as cocky as their American counterparts. There must be an international school where they are all taught the same thing. Let's be an ass so that we intimidate our citizens in case they were ever thinking about being a terrorist or tempted to bring in some sort of agricultural contraband.
*Germans like a rousing discussion and do not take it personally if you do not agree. Apparently they even do not mind when Americans butcher their name and they happen to be high ranking executives who have hosted your trip.
Side note #5: Jury may still be out on above.
As they say…a picture is worth a bunch of words!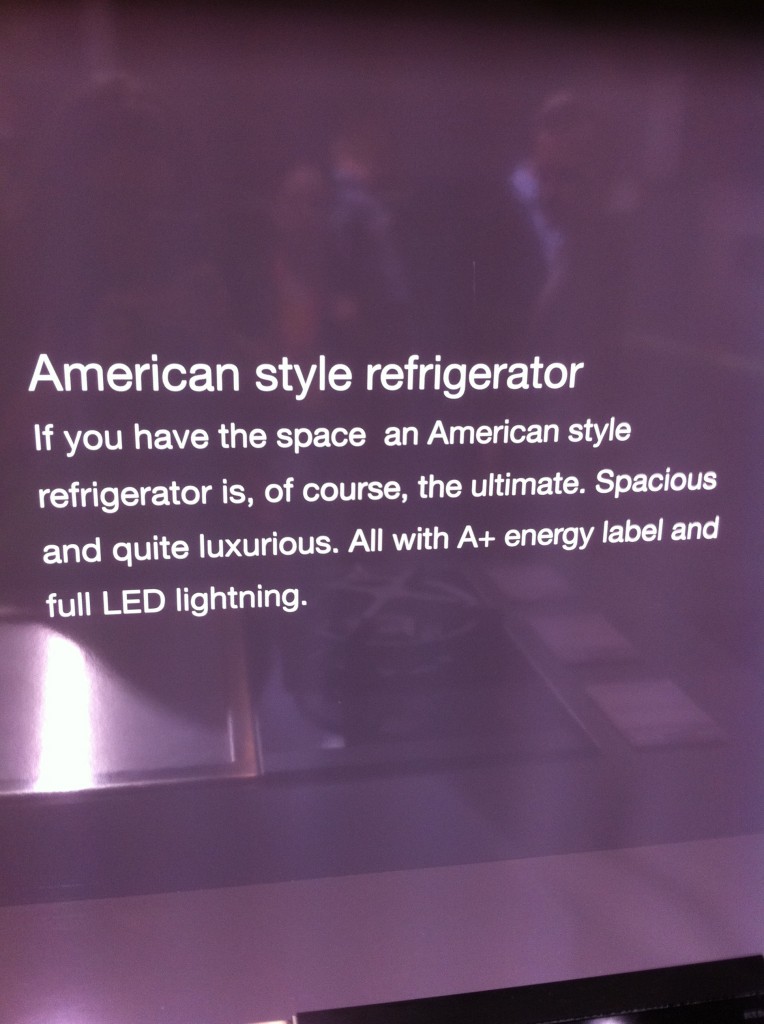 Favorite sign I saw at the show. Whattttts up with that??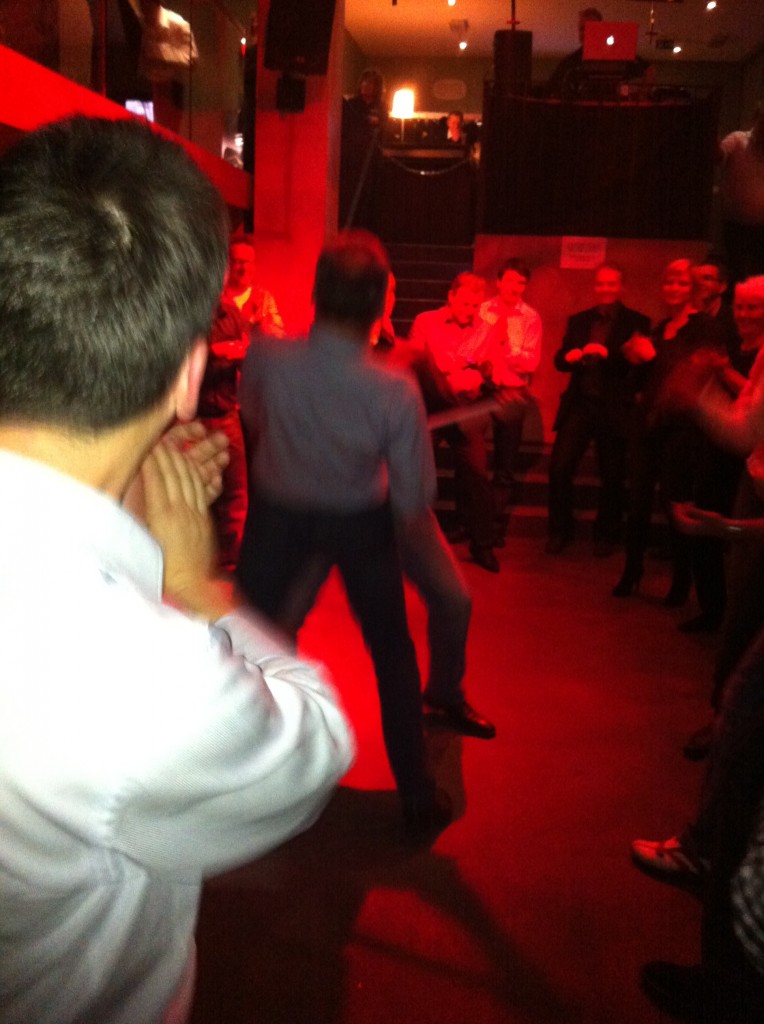 Welcome to Germany! First night dinner at "Gilden am Zims" and dancing…this is "Highway to Hell" with 26 countries that sell Blanco represented on the dance floor!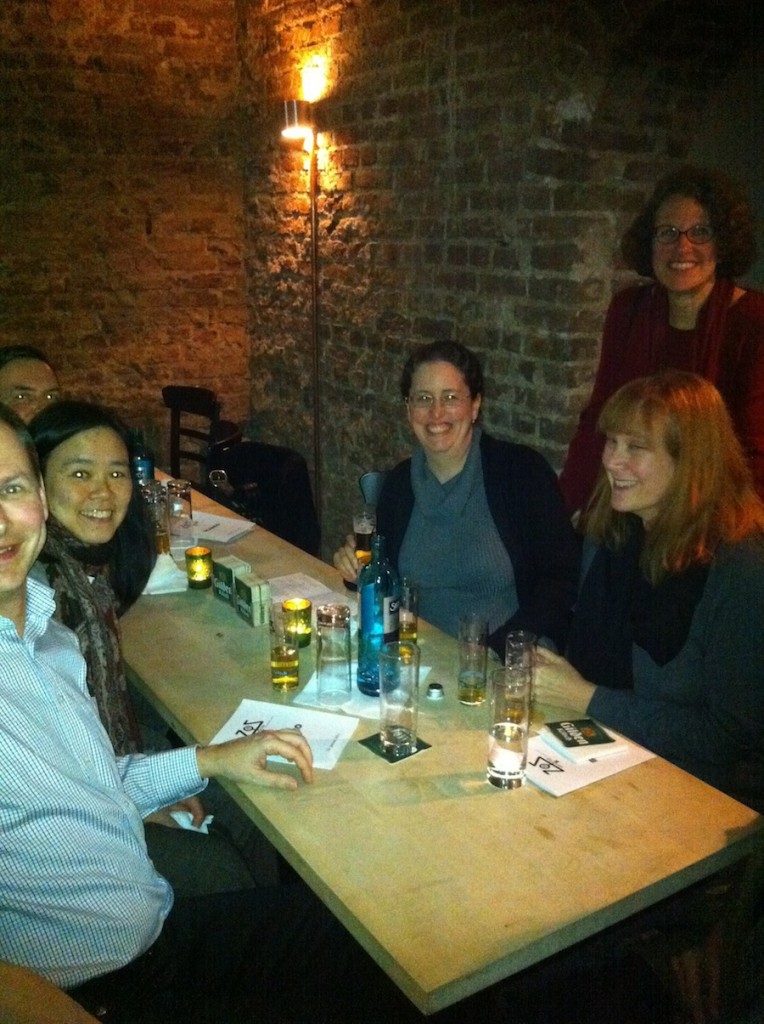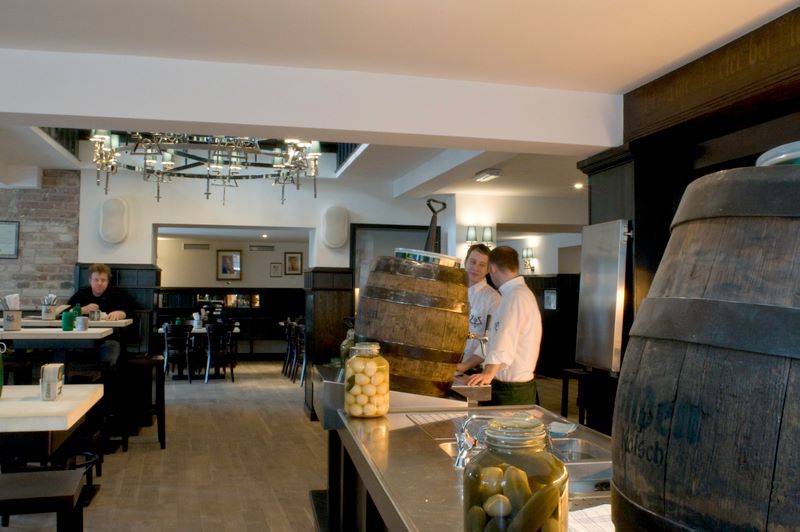 Gilden Am Zims: Highly recommended if you visit Cologne!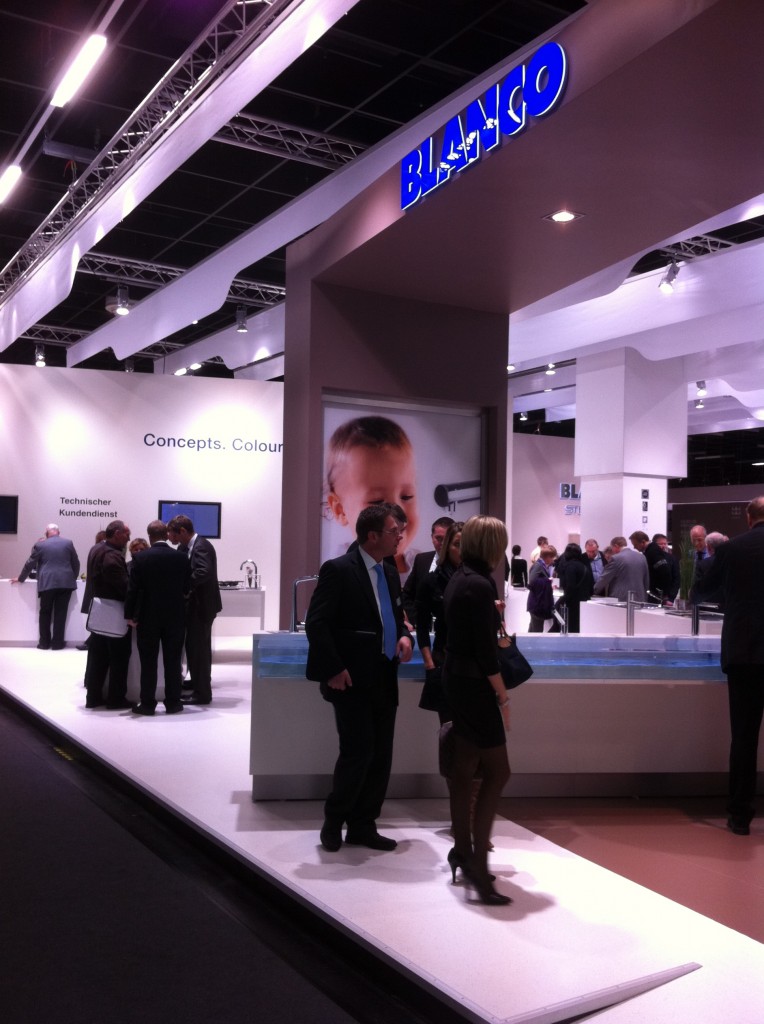 Blanco on the Living Kitchen show floor. I won't say much yet…but KBIS better watch out. I heard they had people there on a scouting mission. I hope they did and took notes.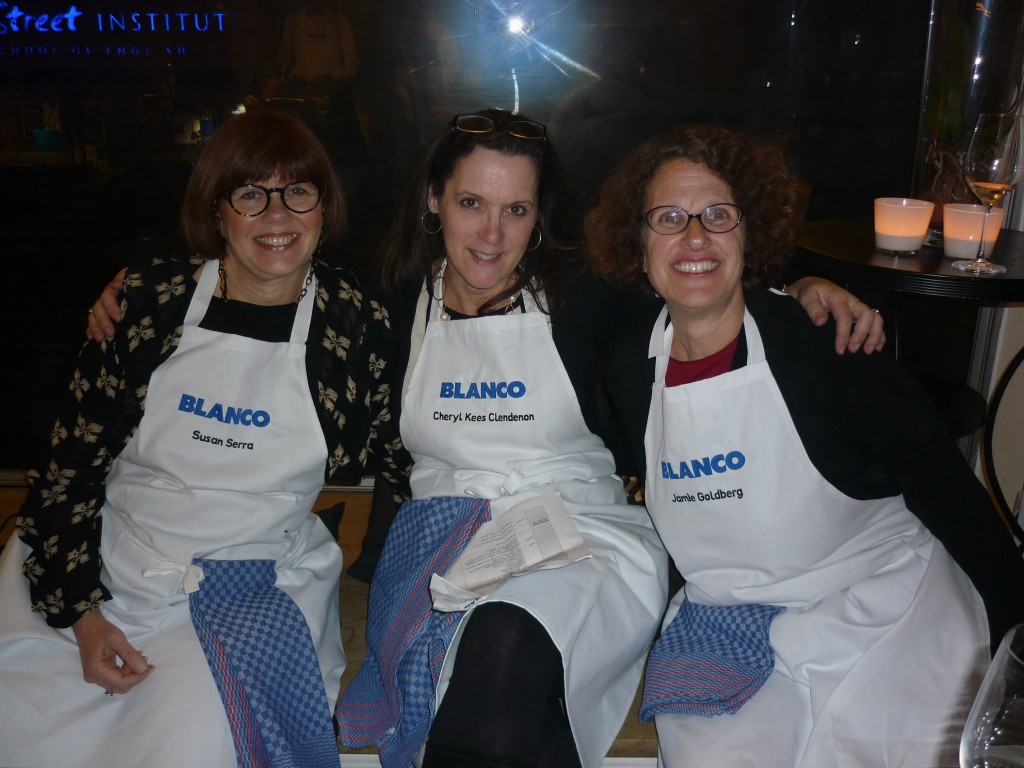 2nd night dinner was a cooking class at Vintage!! Amazing! Here I am with Jamie Goldberg of "Gold Notes"and Susan Serra of  "The Kitchen Designer"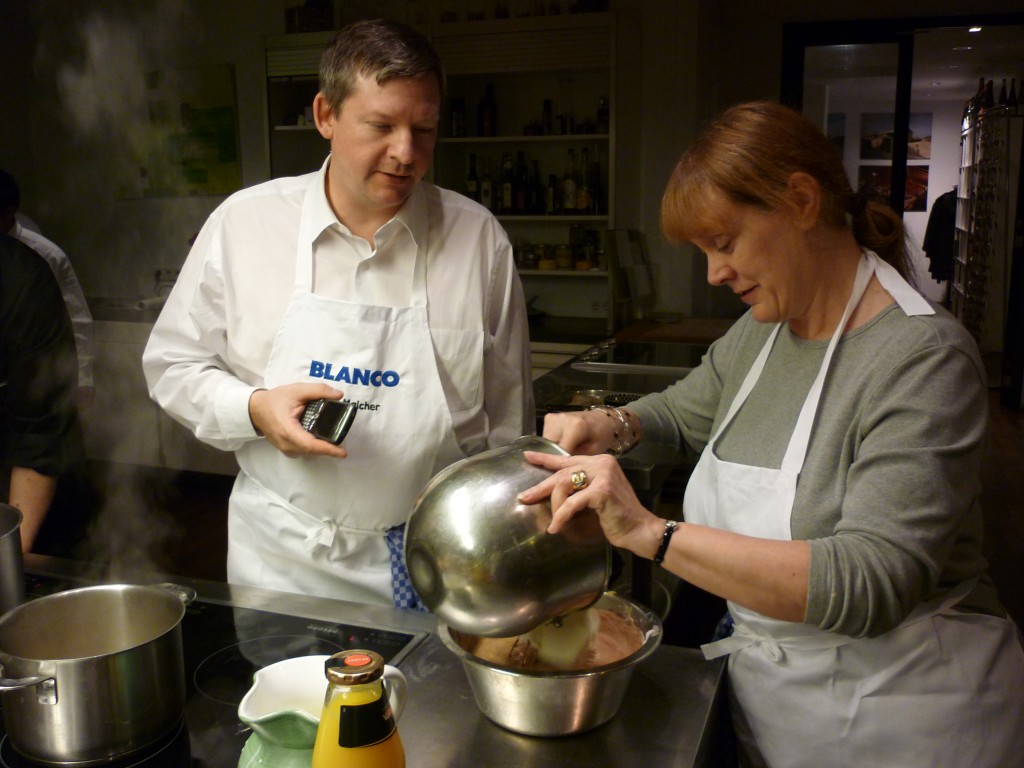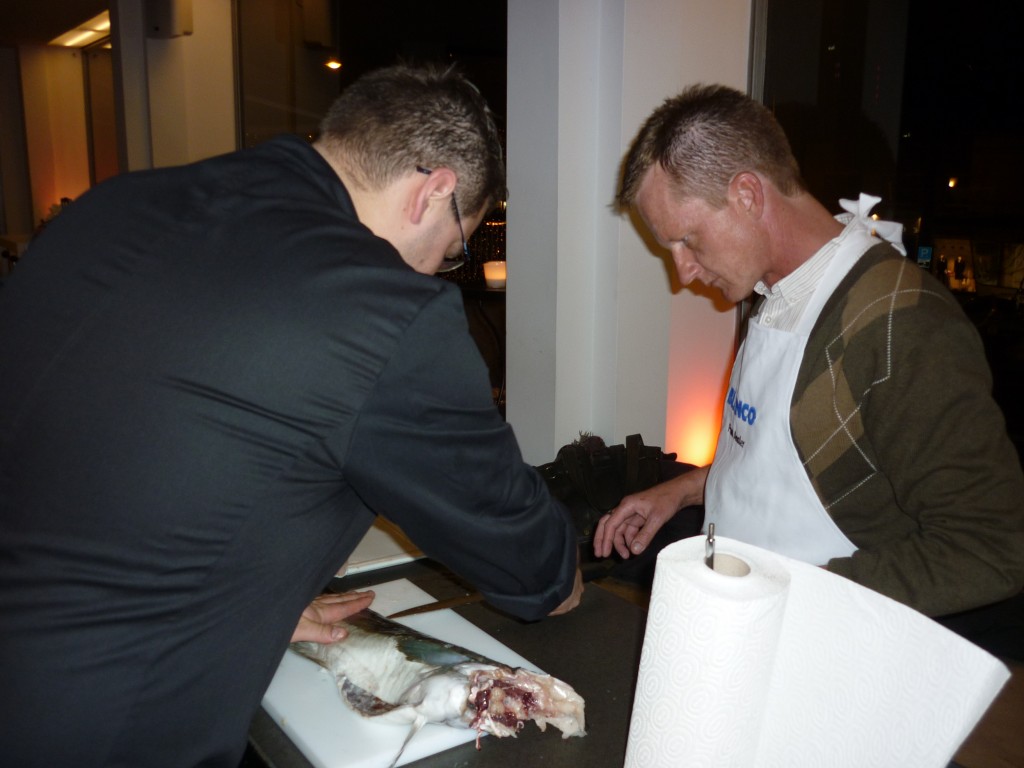 Oh so cute Chef at Vintage teaching Paul Anater of Kitchen and Residential Design how to do something with a knife…I was taking photos and drinking the most excellent wine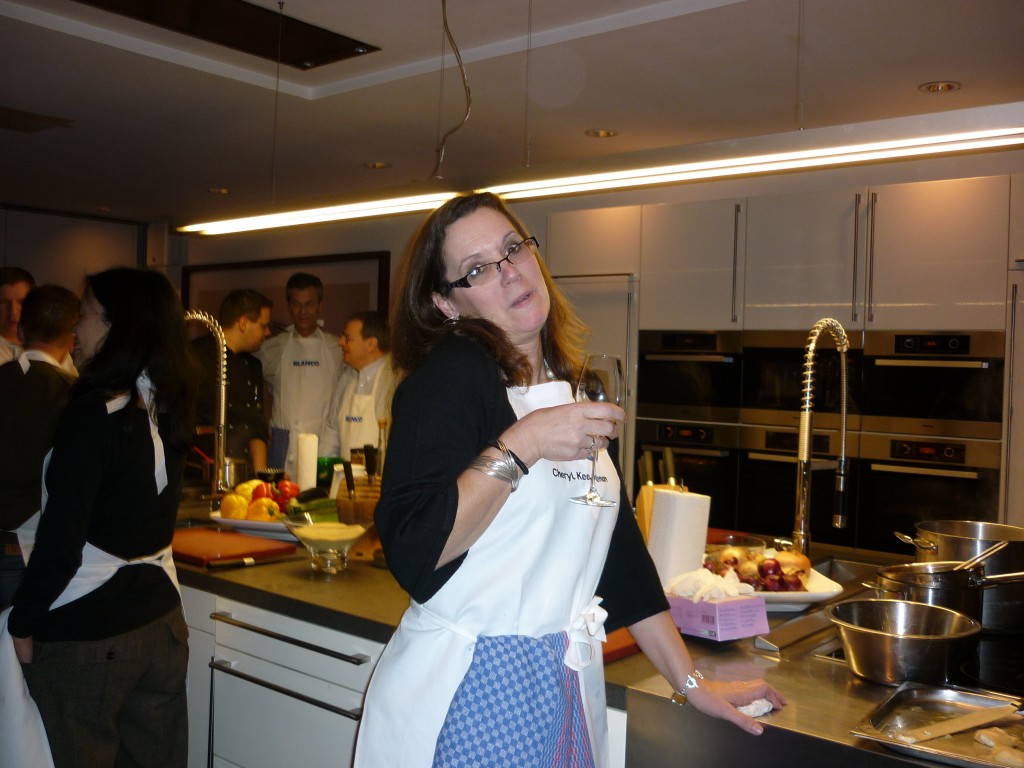 um, yeah, like I said…I was drinking the wine because I heard it is rude not to???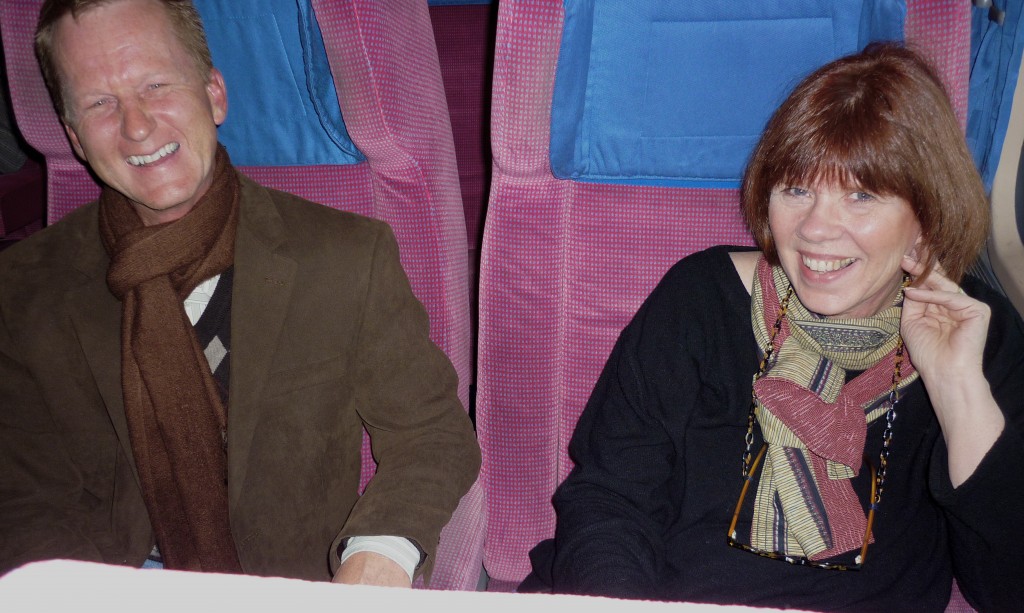 Paul Anater and Susan Serra on the train. I will not even say what proceeded this photo! (But it had something to do with my hand)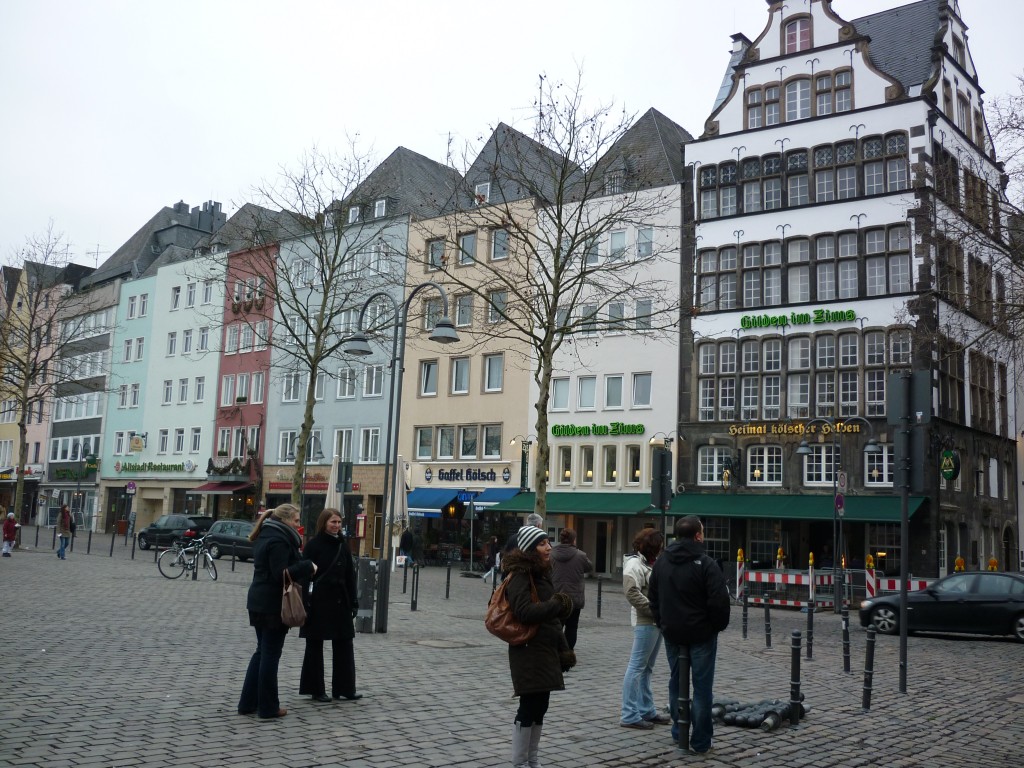 Downtown Cologne. We toured the Cathedral and had some time to play….this means drinking more beer and shopping!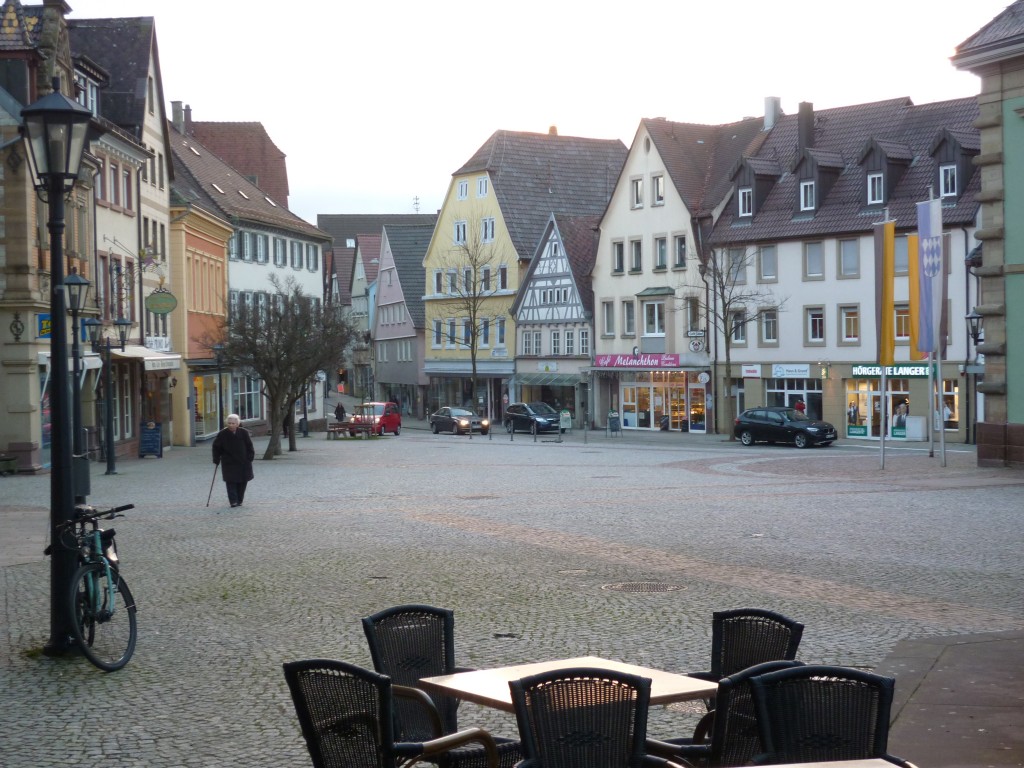 We stayed in the lovely town of Bretten near Sulzfeld where the stainless factory is located.
Gorgeous headquarters of Blanco in Oberderdingen where we met with Blanco's industrial designers. What a treat!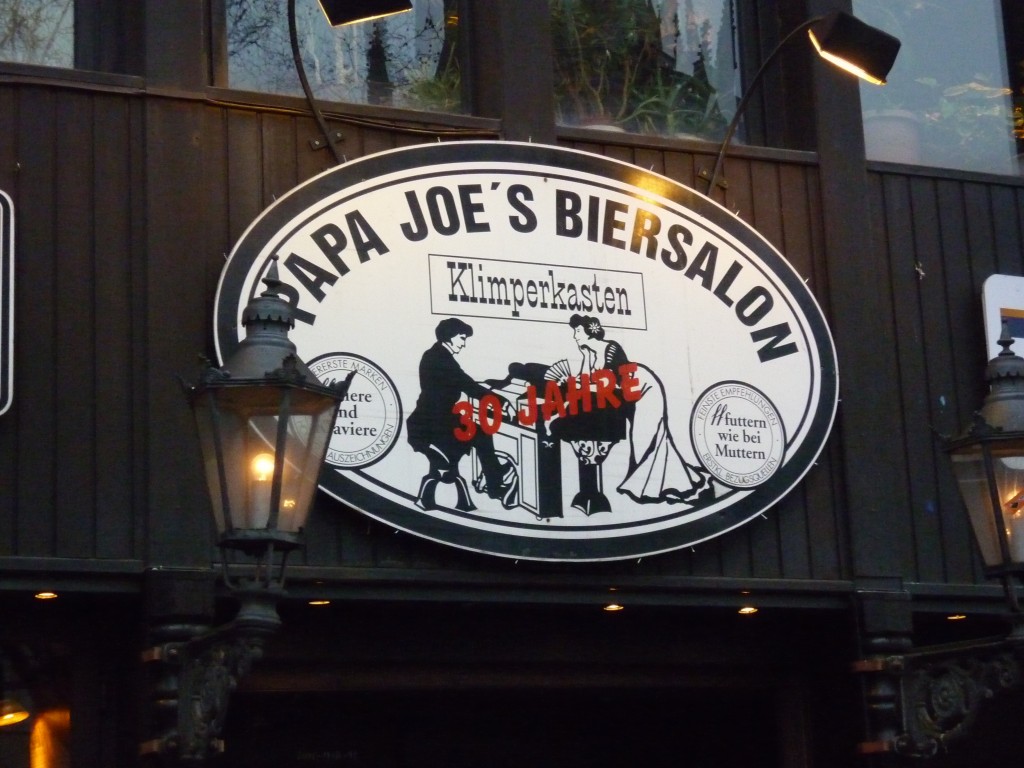 Papa Joes Beer house. I had some time to walk around alone and enjoyed popping into a few places and downing a quick beer and moving on! This was my favorite!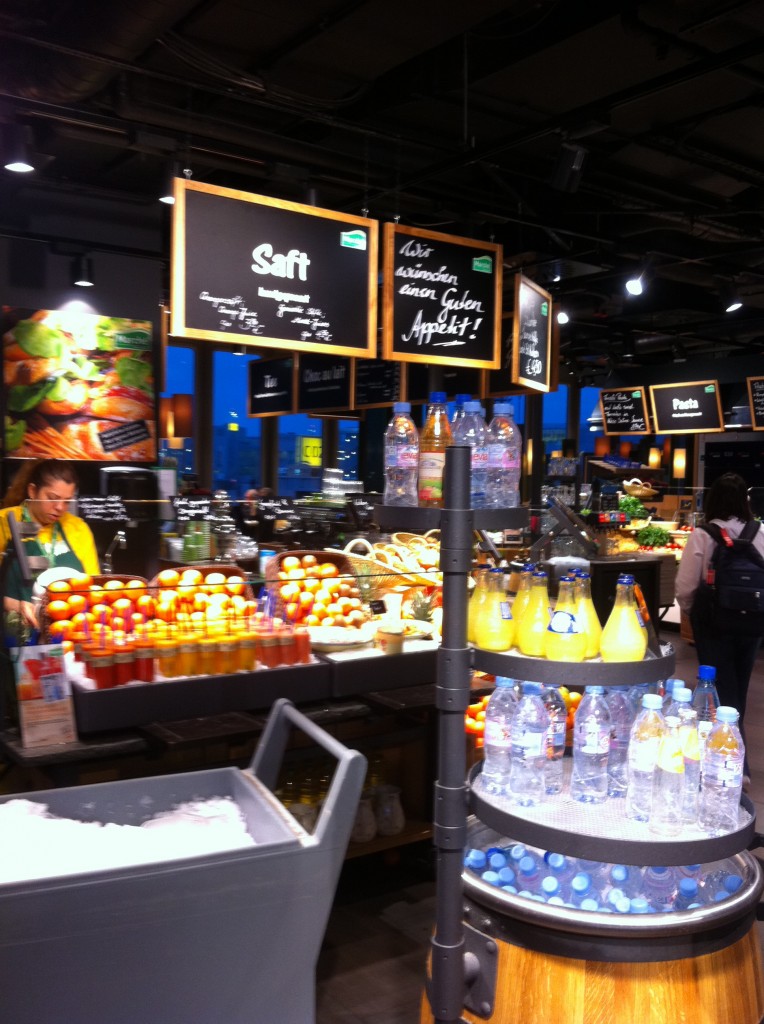 Airport at Dusseldorf. A fresh juice bar and the best breads I have ever tasted. Quite a contrast to the fast foods that awaited in Atlanta!
I will be posting on more serious topics in the next few weeks as soon as I sort the 400 photos I took, the pages of notes and the gazillion press kits. Oh and I am on the hunt for the most primo laminate company I can find….hint hint.
—-Cheryl
Interested in helpful guide for you to follow for drawings that will help your project communication and detailing of critical info? Click here to learn more about Drawing Standards for the Interior Design Project!