Why do a free standing tub?
In my last post on baths, I briefly talked about free standing tubs. I would say this is a trend….at least in our design shop! 
I think for us, this emanates from the wasted space of a large tub surround and the beauty a free standing tub can bring to a bathroom. Sometimes a tub mounted in the deck is important for other reasons or the configuration may not be conducive to a free standing tub design.  As with many design elements, there are pros and cons:
Pros of free standing tubs
A free standing tub can fit better in many smaller spaces. Note the one below we did in a remodel. Picture it with a large tub deck. Would not fit nor look as beautiful!

As also show in the picture below, you can "hide" the plumbing in a decorative half wall. This is a brilliant way to add lots of style and make life easier on the plumber. We project manage most of our own jobs that do not have a general contractor and this trick has saved us much aggravation and cost to move pipes.

A free standing tub allows more "visual" space around the tub and gives it center stage design wow! Note the use of an art light over the tub to highlight an art piece or a tile "picture" behind the tub in the second photo. I eschew windows over tubs if possible. This is another way of giving a focal point like a window provides.

You can get tubs in acrylic, cast iron, many unique metal options, stone, and my favorite, volcanic limestone from Victoria and Albert.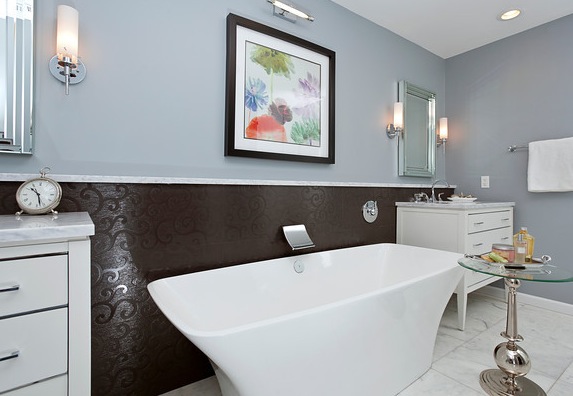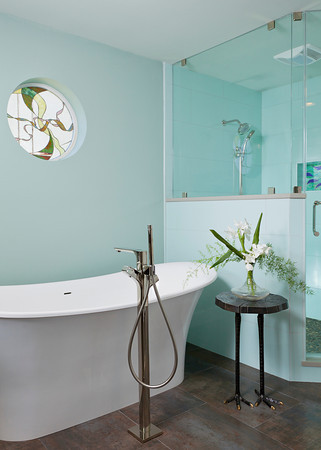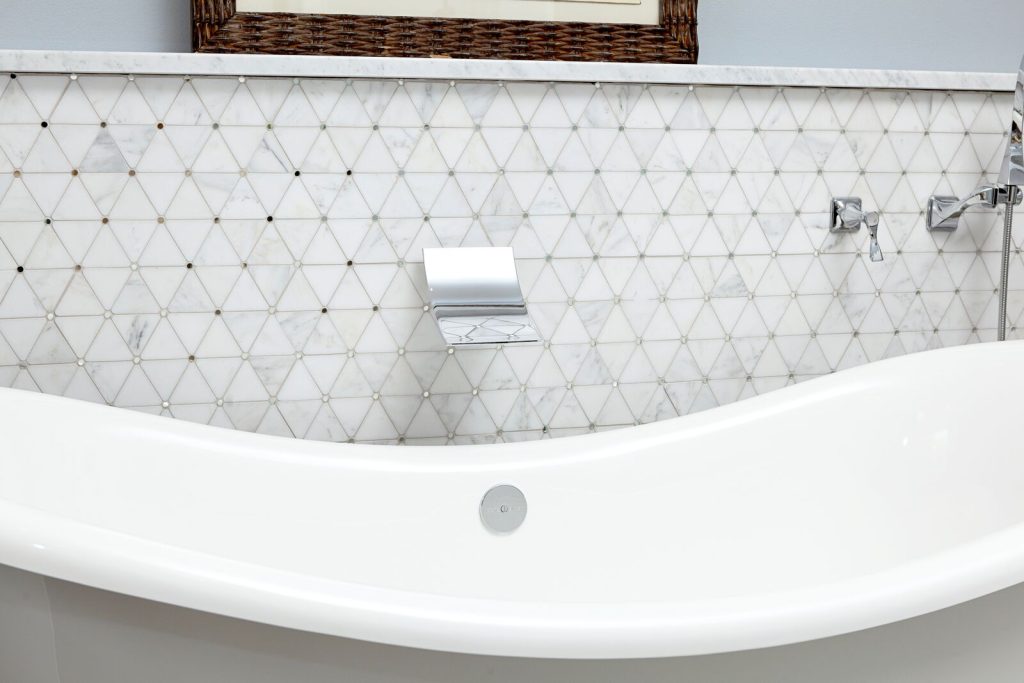 Cons of free standing tubs
If someone has limited mobility, a free standing tub may not be a good choice. You would need grab bars and other  considerations for an ADA design.
If you are like one of our former clients:) and like sitting on the edge of the tub to shave your legs…weeeeell, a deck mounted tub is probably better!
The cost can be more than a drop in tub in a deck HOWEVER, you also do not have to tie around it. If you are using a cultured marble tub and deck all in one then this does not apply. We do not use these often in our designs. ( ok, we never use them and ABHOR cultured marble…have ripped out a lot though)