Delta Faucets has recently come up with a great new ad campaign!! It was tough tearing myself away from their new virtual Wash the Day Away game long enough to write a blog post about it- call me crazy, but I enjoyed washing the clothes off the football player model!!
Delta's ad feature's their new In2ition Two-in-One Shower
Not only will it look great in any bathroom, but it is multifunctional- The handshower can run separately from or simultaneously with the showerhead!!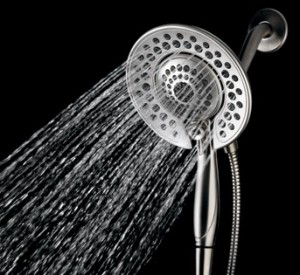 The commercial ad is great, but what's really interesting was the Behind the Scenes ad. The detail that the make-up artist put into the body paint really is amazing!! It makes you appreciate the commercial that much more. Here's the Behind the Scenes video:

Even if you don't have time to watch the videos- go play the game!! It's a nice work distraction and it shows the products great features!!