Who wants a sterile catalog home or worse, one that looks too perfect?
Most of our clients surely do not. They want homes that reflect their style but also has a story to tell and vintage pieces can certainly ramp up the style points.  But people struggle with how to mix the vintage with newer pieces and this can be a real art to get just right.  I love pottery in general but we use vintage pottery in virtually every home we design.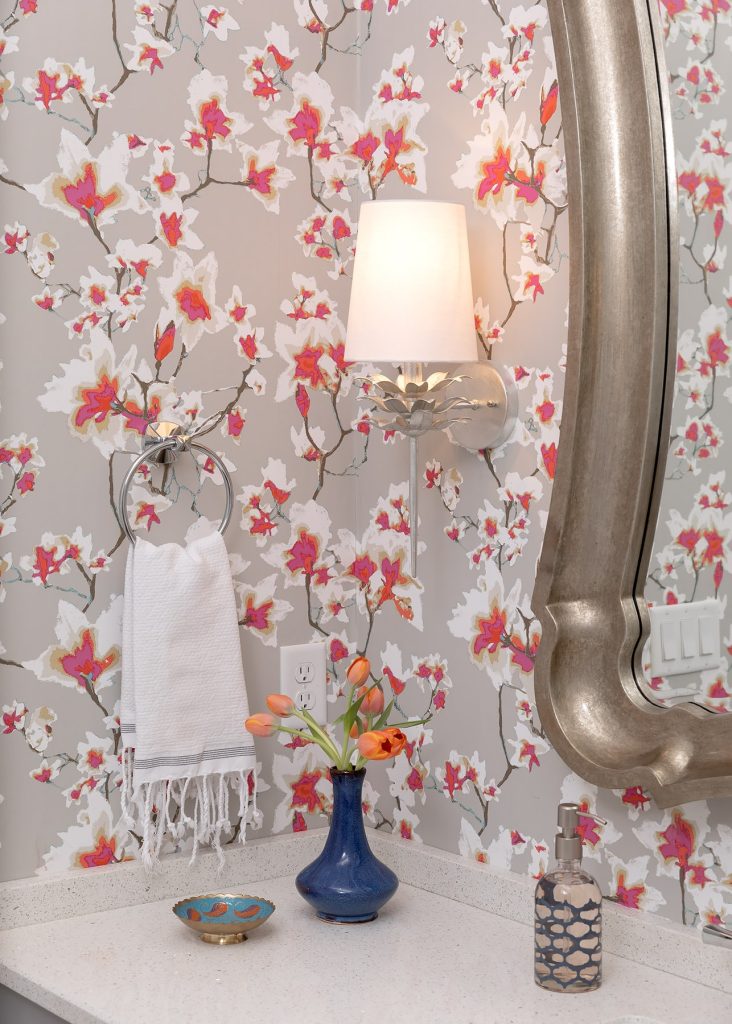 Color, Shape then the company is what matters to us
This is key- we go for color and shape most often when using pottery pieces as accessories in our client's homes. The range of color in some vintage pottery is just amazing and can often be bought at a fraction of the price. The idea usually is to showcase  a larger piece alone and then group smaller items. I buy for our shop pieces that speak to me or I know their provenance- or just like the color or style.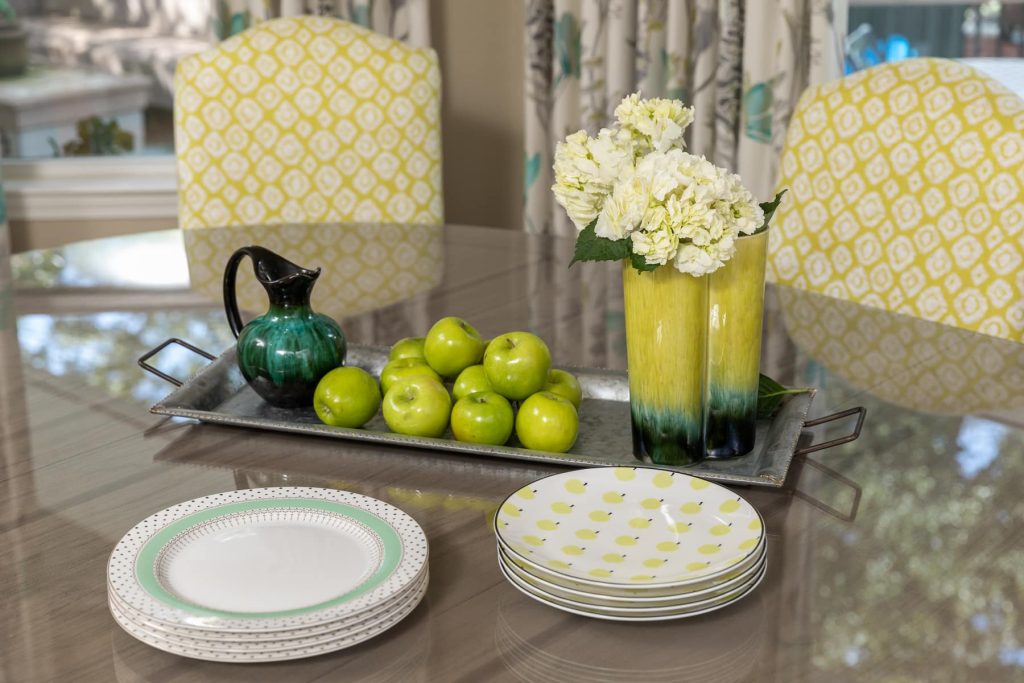 Do not get caught up in buying for a name or age if it means nothing to you in terms of style
I am not a purist or a snob about cool pottery. I do not care if it was made in 1975 or 1925 if I like the lines, color or texture. I do look for hand made items as Liz and I are rabid about hand made pieces for the shop- and for our clients. But some great pottery like that of my fave mid century designer- Sascha Brastoff – was made in batches but designed by him. It just depends on the style. Fun fact- Joan Crawford loved Sascha's pieces and they typically were sold in high end shops like Nieman Marcus and also from his own showroom.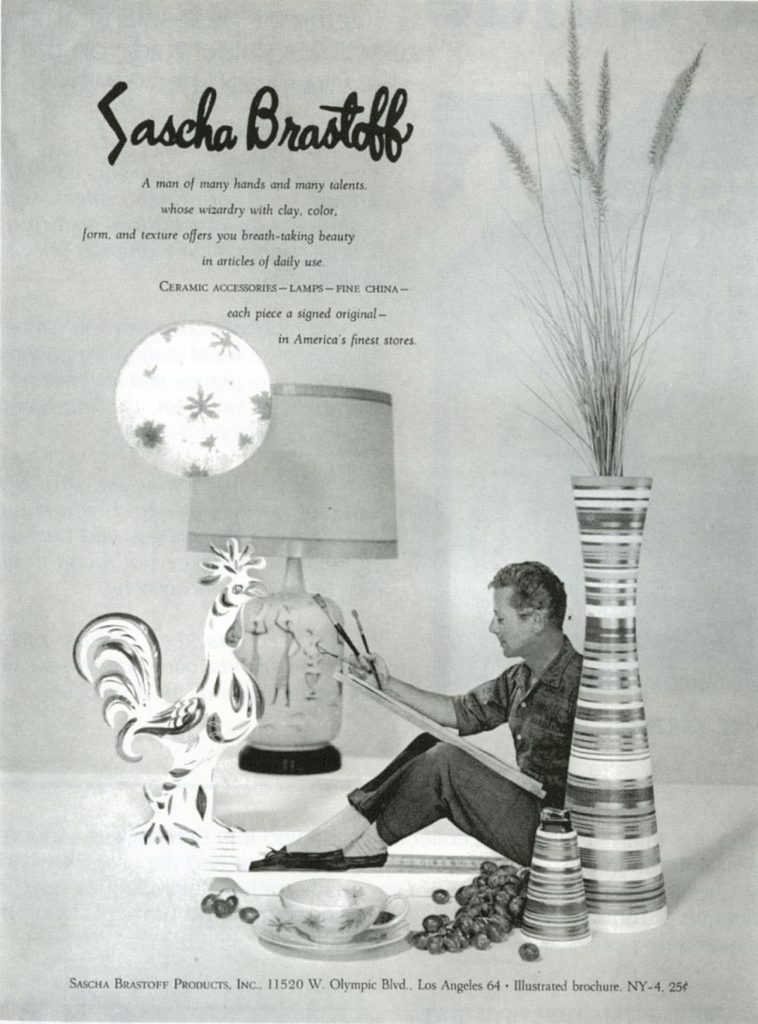 Designer Barry Goralnick wrote about Brastoff HERE if you want to read more- and see why he was such an interesting fellow. Side note- Barry the designer has a line of cocktail side tables for Vanguard that we have in the shop! 
Inspiration in our design work
Often a particular piece will inspire a color or a palette that we use in the main furnishings and I love this when it comes about. I do not look for something really but believe it or not many times it just finds me!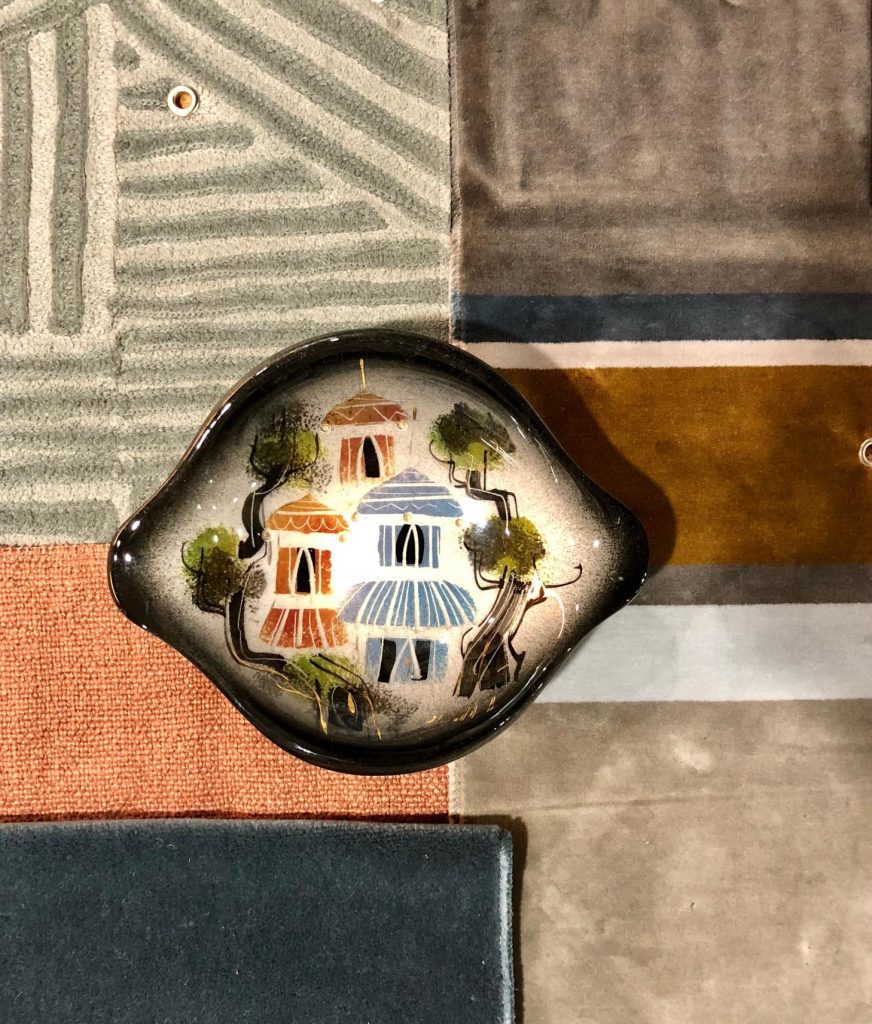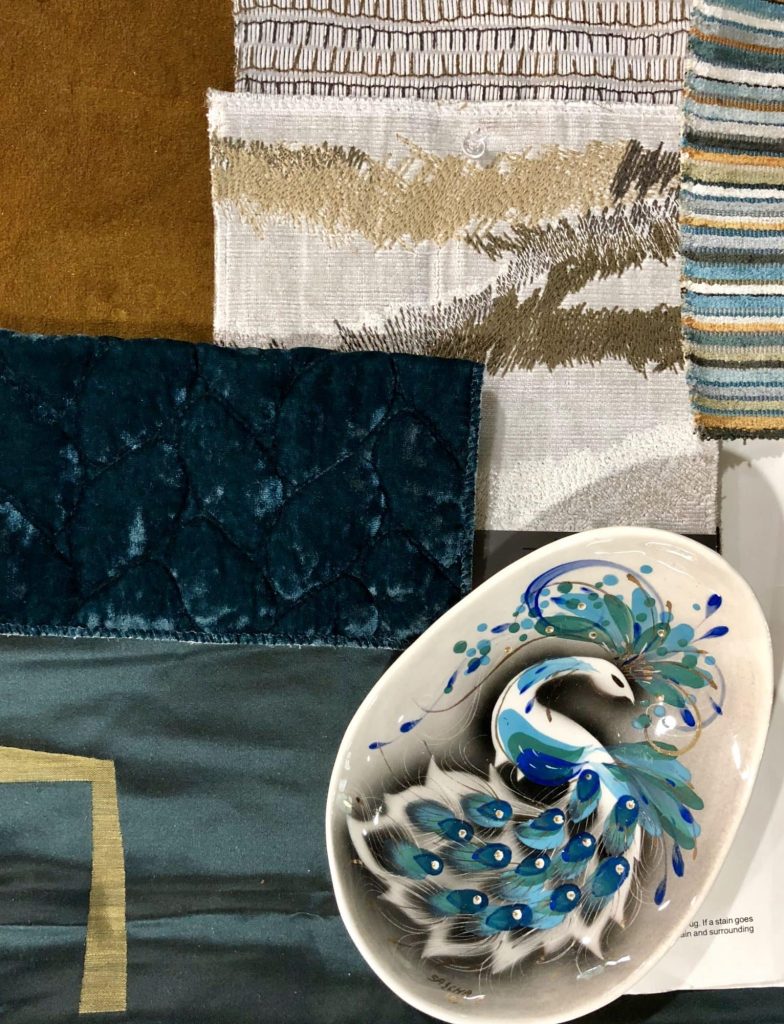 Ideas to inspire you to find vintage pieces for your home
**Look for pieces that might repeat a color you would like to showcase in your space**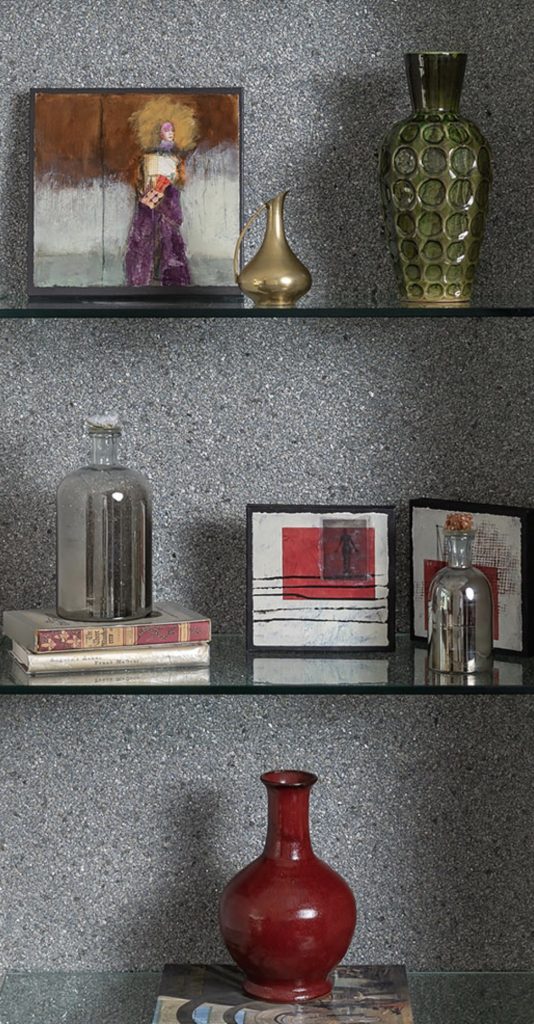 **Try to find conversation art- something that has a story to tell or that people will notice because it is unusual**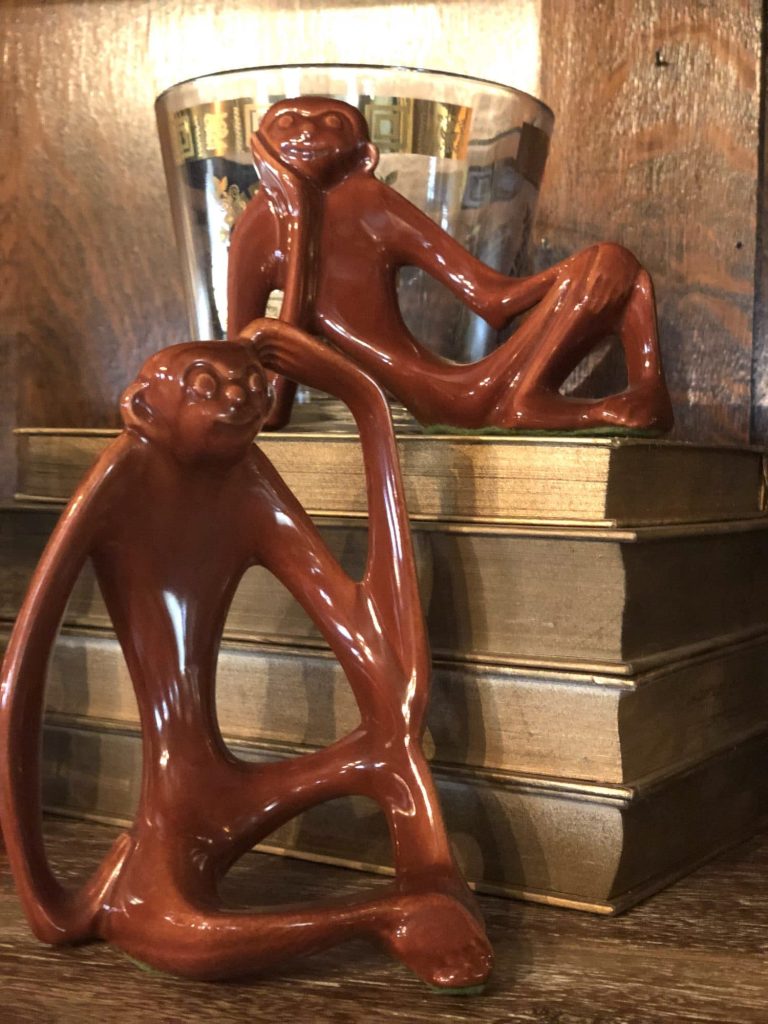 **Research the maker- it will mean more to you and also gives you something to share with others- people like hearing stories I tell about some of my pieces- half the fun is the story behind it! **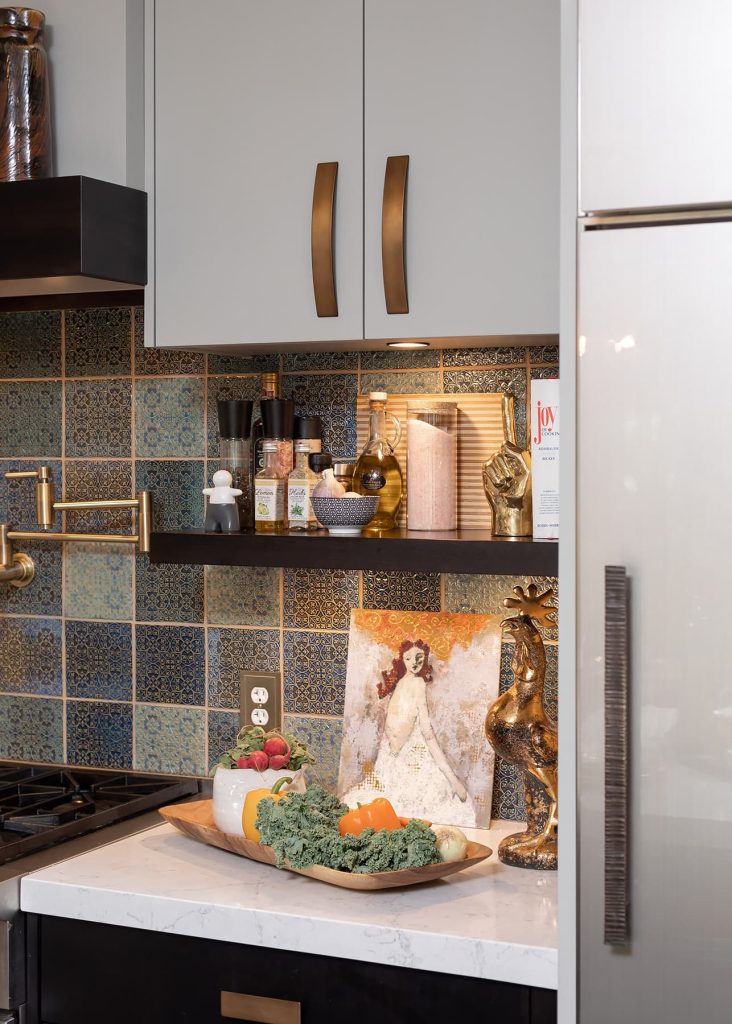 If you look hard you will see the gold rooster in the corner. This is my own kitchen and I live with what I love- and this Brastoff piece is one of my faves. And the story behind the rooster below is finding it for a song at an estate sale- no one could read the signature!  My daughter also thinks is funny to turn it facing in every time she comes over- and wait to see how long before I notice it! (Which sometimes is several days!)
**Sometimes the alliteration of a color, finish, or similar styles of pottery can make a huge visual statement even if the collection is not the same maker**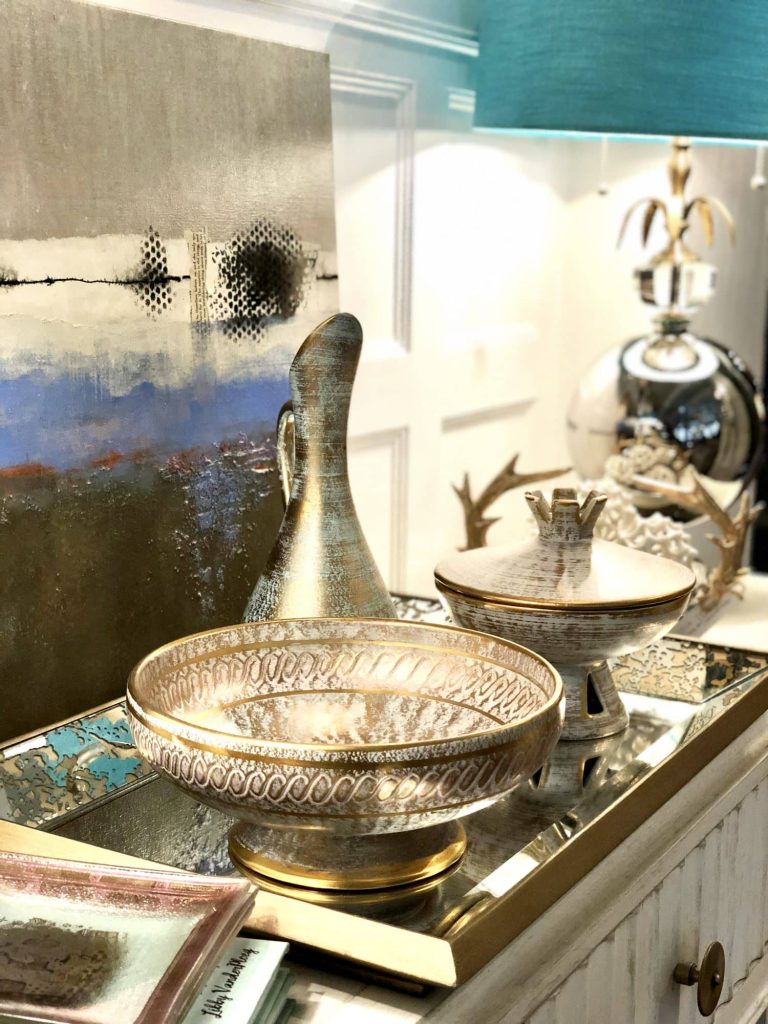 **Interesting shapes and uses thrill me- I have an entire "coffee table set" of pottery that is pristine and such fun colors- it includes an ashtray ( of course), a little box for cigarettes and two vases. Decor was a lot more matchy in the 50's**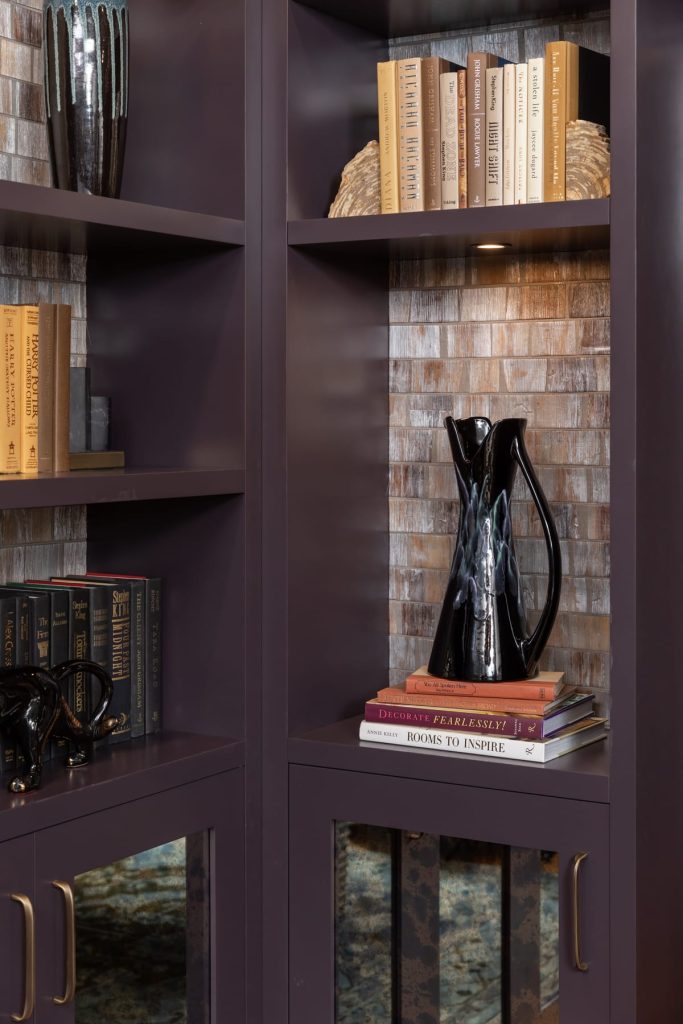 ** Look for pieces that speak to you- reach out and grab you so to speak and you will love them always! **
Happy Hunting and don't forget to come see our wonderful collection of vintage pieces- in the shop and many are online and we are putting more on every day!