Why Beige?
Choosing the right color of paint for your walls, or for that matter your cabinetry, bed linens, accessories…can be daunting to many people. This is one area I constantly find clients throwing up their hands in frustration.
Like any designer, I have my tried and true favorites and a few "go to" colors for various situations but I approach each project with no preconceived colors that are my "signature" colors like many designers I know.
Every job has different furnishing parameters, every home has different lighting (natural and interior) and every client has a different "color personality".
But the idea that beige is a "neutral" needs to go away – it is not. In fact, the fleshy tones of beige are much harder to work into a harmonious palette for your furnishings too.
There is no "one size" (color) that fits all in my book.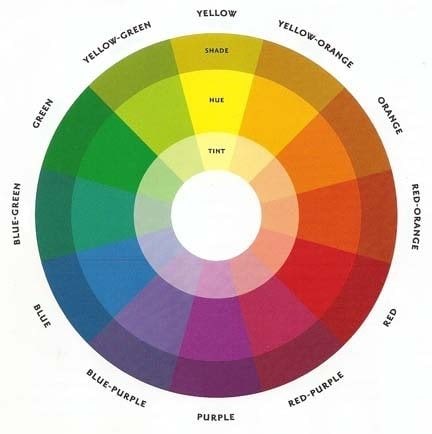 Art or Science?
There is definitely a science to color and how colors interact with one another as well as how the eye sees color, but in my opinion, choosing the right color for each situation is more art than science (read more about that in my article here).
Except that now science seems to be cashing in on the beige train! Read more here about the discoveries of obesity fighting "beige fat". I mean, come on.  Perhaps really drab offices of most researchers is to blame for this!
Another attempt to thwart the abolition of beige, now even the cosmos is apparently beige, I wanted to think this was fake news but read it in too many places! Check out this article about the theory of the beige cosmos!
We love the opportunity to choose paint colors for our clients – it is an important part of our process
We are not afraid to make a mistake. We buy samples first. Always.
We have experience in choosing colors and work with the paint decks and swatches every day. IMMERSE YOURSELF IN A PAINT DECK DAILY AND YOU TOO, WILL LEARN MUCH ABOUT WHICH COLORS WILL WORK! And once you do this, please come and apply for a job because we can always use more color savvy people!
I have a good eye for color (usually!) and can read undertones very well. This is because we do it a lot. Nothing more than that!  EXPERIENCE.
Cheryl's words of wisdom on paint: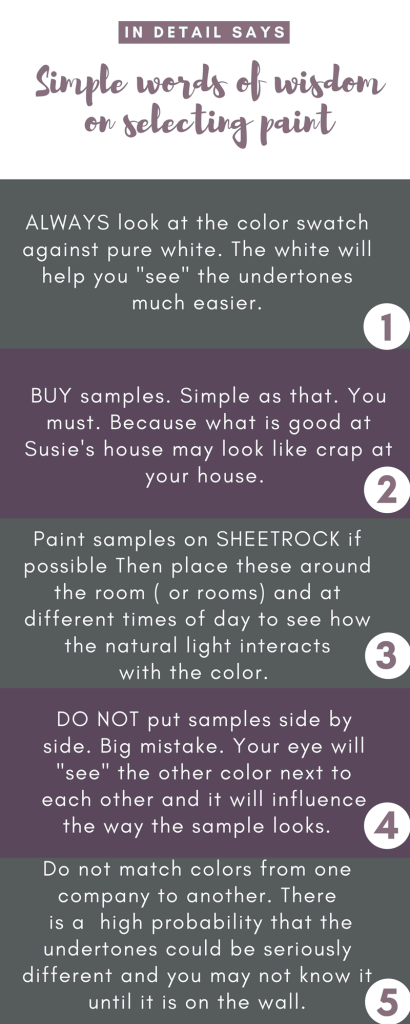 **ALWAYS look at the color swatch against pure white. The white will help you "see" the undertones much easier.
**BUY samples. Simple as that. You must. Because what is good at Susie's house may look like crap at your house. You will most likely have different utilization of windows, different siting of your home which means different natural light at different times of day. Samples are far cheaper than having the painter redo a mistake!
**Paint samples on SHEETROCK if possible. Lowe's sells 24×24 samples. Then you can place these around the room (or rooms) and at different times of day to get the real effect. 
**IF you have your painter put them on the wall, DO NOT put them side by side. Novice mistake. Your eye will "see" the other color next to each other and it will influence the way it looks. At the very least, put them on opposite walls. 
**Do NOT think that you can match a Benjamin Moore color or Pratt and Lambert color or any manufacturer color to another paint company. You may get lucky and it will be ok but more often, it does not look the same and high probability that the undertones could be seriously different and you will not know until it is on the wall. Just do not do it. 
**PAINT YOUR TRIM (moldings, door casing, crown etc) WHITE or off white. 90 percent of the time this is the best call to make. If you are doing cool colors, use a cool white with hint of gray. If you are using warm colors then use a white that has a hint of yellow. Painting the walls and trim the same color can work- but is not easy to pull off in most rooms- if you like this look then try it in a dining room or guest room where you might not tire of it. 
**Paint your CEILING A COLOR when appropriate. If you have crown to separate it, consider it appropriate! It can be a softer tint of the wall color or a contrasting color. It is a tricky thing but the results can be magical!
 **Do NOT paint your walls beige. I repeat, do not paint your walls beige. Beige is ugly. There is no way to soften the blow. And beige with fleshy undertones is a SIN against nature man, and I think religious deities everywhere, because FLESHY COLORS do not belong on walls. Enough said. 
What if your house really needs a warmer tone that has brown undertones?
These are our no fail greige colors that work almost anywhere! Editor's note: We liked Manchester Tan when this was originally written and it is still a good one if you MUST have a beige-ish color but try these for a fresh look in the new year!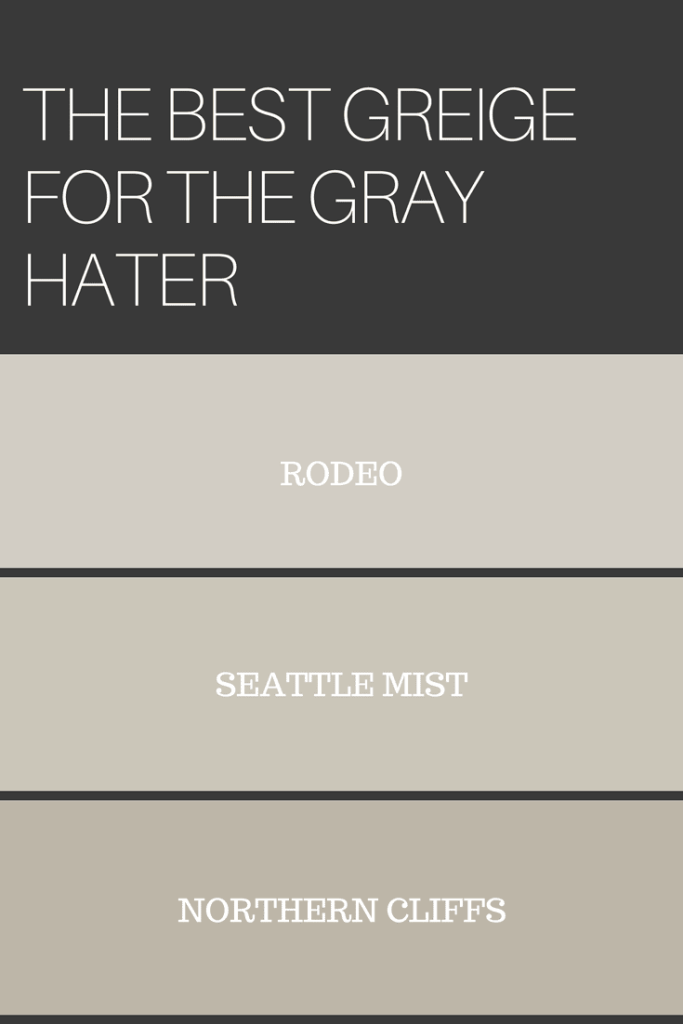 You may also be saying to yourself…well if she does this all the time, what are her favorite colors? THIS WEEK, because it changes every week.
How do you break it to someone their house is just one big beige box? Read about it  here!
Do you have a favorite? Share it with us!